The new year begins in Africa
---
Magazine intern Shira Tevah, '09, is spending winter quarter abroad as part of Chicago's African Civilizations course. This is her first dispatch from South Africa.—Ed.
---
"We think we can just make these crazy plans for a few months away," my friend Kelin Hall, '09, once said to me, "and not think about them again until a few days before." Her words describe my present position: I leave tonight at 11 p.m. for Cape Town, where I'll spend winter quarter in Chicago's African Civilizations course abroad. I didn't seriously begin preparations until after New Year's.
My thoughts revolve around the unknown: a continent I've never been to, a different daily routine whose appearance I can't envision. The climate? Warm, I presume. The landscape? "It's so beautiful," everyone says, but I know little else. The people? I have a list of the 24 Chicago students going, but most I haven't met. How will the hours be filled? For starters, we'll have John and Jean Comaroff's African Civilizations 1 & 2 readings—Economy, Society, Politics, and Law: Pre-Colonial and Colonial Perspectives; Colonialism and the Dialectics of Modernity—and trips to places such as Clanwilliam, Table Mountain, and even Johannesburg and Kruger Park at the end of the quarter. Details like how to do my laundry? I'll find out when we get there.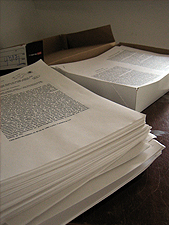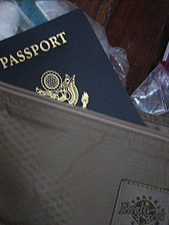 I decided to visit South Africa while living and studying in the West Bank last fall quarter—comparisons of the West Bank to South Africa under apartheid are widespread and widely argued. It would be interesting, I thought, to see for myself. I had been trying to avoid Chicago's study-abroad programs because I feared they would be too cloistered (these programs consist of U of C faculty and students alone), but in the end I opted for, well, more time abroad. Knowing I'd miss a Chicago winter didn't hurt.
The Cape Town program has an unwritten reputation for being both the most academically rigorous and the constant choice for students interested in social justice. I'm anxious about being a political tourist. I want to get to know every part of South Africa, including, for instance, impoverished townships, but I'm wary of turning people's lives into spectacle by studying them and writing blogs or academic papers. I hope to balance, in whatever ways I can, the quest for knowledge with the commodification of the places and people where knowledge can be found.
I have a hunch the stack of paper I printed last week will help. I'll get started on my 12-and-a-half hour flight to Dubai, followed by 12 hours in Dubai and another nine hours and 40 minutes to Cape Town. My reading list for the flights includes: Nervous Conditions by Tsitsi Dangarembga, The Life and Times of Michael K by former professor in Social Thought J. M. Coetzee, and King Solomon's Mines by H. Rider Haggard—which is, according to the girl working at the Seminary Co-op the day I bought it, a page-turning adventure perfect for long flights.
Shira Tevah, '09
Clockwise from top left: I have to make space for textbooks in my suitcase; I'm bringing Malarone, a malaria suppressant that we'll be taking when we go to Kruger Park, as well as emergency antibiotics; passport and concealable wallet are, of course, a necessity; my stack of all the course readings.