Organic farming a long row to hoe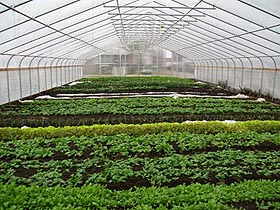 When organic farmer Larry O'Toole began explaining to a couple dozen students and Hyde Parkers in Bartlett Lounge just how hard it is to break away from conventional agriculture, I thought of a farmer I know back home in North Carolina, who converted his family land to organic crops after about 200 years of traditional agriculture. More than once he's told me that it was about the hardest thing he's ever done, but worth it.
A city farmer, O'Toole transforms more vacant lots than family farms; he works for Growing Home, a nonprofit that provides job training to homeless and low-income people on three organic farms in Chicago and rural Illinois. His comments came at a lunchtime forum on Earth Day—amid a week of green-focused campus events—and on the table in front of him sat boxes of soy milk, organic cheese cubes, a tub of organic hummus, and someone's bike helmet. O'Toole shared a panel with Martin Felsen, an Archeworks architect looking for ways to replenish some of the 2.1 billion gallons of water that Chicago removes daily from Lake Michigan. Also in the discussion was Esther Bowen, AB'08, a TA for geophysical scientist Pamela Martin's class-cum-study crunching the numbers behind environmentally sustainable farming.
All three panelists began on a note of optimism but quickly converged on the reality that altering America's agricultural landscape will require difficult, fundamental changes. O'Toole discussed the outdated agricultural and zoning policies that made establishing a produce farm in Chicago's Englewood neighborhood nearly impossible, even though "the mayor and the alderman loved the project," he said. "It took four years of fighting tooth and nail to get the farm going." Growing Home's Englewood site finally got under way in 2007.
Then there's the question, O'Toole said, of ingrained tradition. "Historically, farmers rely for their training on knowledge that gets accumulated and perfected over generations." Going organic means reversing centuries of momentum and starting over. "It's like studying for a PhD," O'Toole said, which was what reminded me of my friend in North Carolina. He lives just outside Asheville on the farm his family has owned for seven generations. He decided to switch to organic about a decade ago. He gave up pesticides and heavy machinery, found a new water source that didn't require pumps, and figured out how to keep his goats warm all winter without heating the barn. "I feel like I'm studying for a PhD," he once remarked about all the research his organic conversion required. And although his farm is more rural than O'Toole's, he still had to clear a few municipal roadblocks. Ten years later, he's finally making money.
What he and O'Toole both believe is that if organic farming can survive, it will flourish. "The demand from consumers is there," O'Toole said. His Bartlett Lounge audience nodded their heads. "We could multiply our farms by ten or 20 and still not meet the demand."
Lydialyle Gibson
Photo courtesy Growing Home.