May 2012

| Sun | Mon | Tue | Wed | Thu | Fri | Sat |
| --- | --- | --- | --- | --- | --- | --- |
| | | 1 | 2 | 3 | 4 | 5 |
| 6 | 7 | 8 | 9 | 10 | 11 | 12 |
| 13 | 14 | 15 | 16 | 17 | 18 | 19 |
| 20 | 21 | 22 | 23 | 24 | 25 | 26 |
| 27 | 28 | 29 | 30 | 31 | | |
---
CATEGORIES
---
RECENT ENTRIES
---
BLOG ROLL
Down the rabbit hole and onto the quads
Students and U of C families gather on Bartlett Quad to watch Alice in Wonderland.
It's summer at Chicago. The air is muggy, the pace slower, and birds chirp well into the evening. For those of us here in town, the Office of the Reynolds Club and Student Activities is sponsoring a series of al fresco movie screenings. Films are shown after dark on an inflatable screen.
The selection for July 1 was Alice in Wonderland, Tim Burton's 2010 blockbuster. Moviegoers—undergraduate, graduate, and summer-program students as well as faculty, staff, and their children—started arriving at Bartlett Quad around 7:45 p.m. and plopped down on a sea of patterned and solid-colored blankets. When dusk descended, the film began rolling as some 70 attendees munched on self-supplied treats: candy, popcorn, assorted take-out.
Did Alice slay the Jabberwocky? We're not telling, but we will reveal the dates of upcoming Movie on the Quad screenings. All are on Bartlett Quad, and begin at dusk (8:00 p.m. or shortly thereafter).
July 22: When In Rome
August 5: The Goonies
August 12: Shutter Island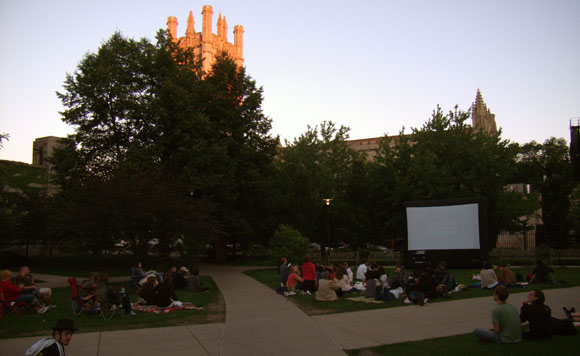 Crowds start to gather.

Nightfall approaches.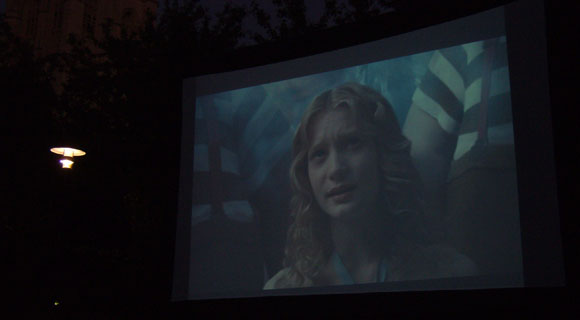 Showtime.
Katherine Muhlenkamp
Photography by David Muhlenkamp
July 20, 2010