May 2012

| Sun | Mon | Tue | Wed | Thu | Fri | Sat |
| --- | --- | --- | --- | --- | --- | --- |
| | | 1 | 2 | 3 | 4 | 5 |
| 6 | 7 | 8 | 9 | 10 | 11 | 12 |
| 13 | 14 | 15 | 16 | 17 | 18 | 19 |
| 20 | 21 | 22 | 23 | 24 | 25 | 26 |
| 27 | 28 | 29 | 30 | 31 | | |
---
CATEGORIES
---
RECENT ENTRIES
---
BLOG ROLL
Sabbatical or bust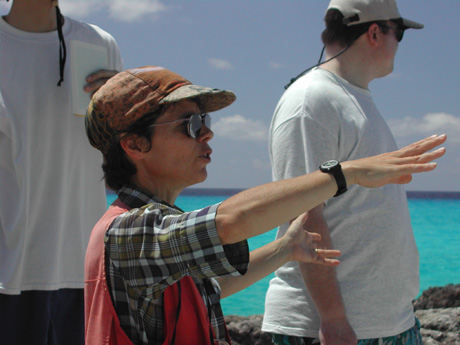 Marine paleontologist Susan Kidwell will spend the coming school year in Washington, DC, just steps from the Potomac River, although most of her work will be done in the Smithsonian's library.
Almost as soon as I knocked on her office door on a late-September morning, geologist and paleontologist
Susan Kidwell
was up from her desk, shaking my hand and ushering me out into the sunshine with a single, swift motion. Her office on the fifth floor of Hinds was "disastrous," she declared as she closed the door behind us—piles of papers overwhelmed nearly every flat surface in the long, narrow room—and wouldn't we rather sit outside in the nice weather? "This is one of my last days on campus for awhile," she said, "and the flowers are beautiful." We found a shady bench in the Crerar quad across from a bed of purple hostas.
I'd come to interview Kidwell for a Magazine story about her research on marine ecosystems, 48 hours before she was scheduled to leave town for a yearlong sabbatical at the Smithsonian in Washington, DC. She hadn't packed a single suitcase. "My papers are all in boxes and ready to go," Kidwell assured me, but her clothes were still hanging in her closet. "Maybe I'll just go shopping when I get there."
Kidwell will spend most of the coming school year in the Smithsonian's library, tracking down other scientists' studies on the number and diversity of mollusks, both living and fossilized, from different years and at different sites around the world. The data provide a kind of time-lapse picture of the animals' changing ecosystems and the marks that those environments bear from human activity: fishing and farming and urbanization.
Her months away from Hyde Park will keep Kidwell busy, but not lonely, she said. Accompanying her will be a scholarly family of sorts: her husband David Jablonski, a Chicago paleontologist (who is shipping his own boxes of papers to DC), and her research associate, Adam Tomasovych. "We'll all be there together," Kidwell said, "my husband, my postdoc, and me."
L.G.
September 29, 2008