May 2012

| Sun | Mon | Tue | Wed | Thu | Fri | Sat |
| --- | --- | --- | --- | --- | --- | --- |
| | | 1 | 2 | 3 | 4 | 5 |
| 6 | 7 | 8 | 9 | 10 | 11 | 12 |
| 13 | 14 | 15 | 16 | 17 | 18 | 19 |
| 20 | 21 | 22 | 23 | 24 | 25 | 26 |
| 27 | 28 | 29 | 30 | 31 | | |
---
CATEGORIES
---
RECENT ENTRIES
---
BLOG ROLL
Music of the night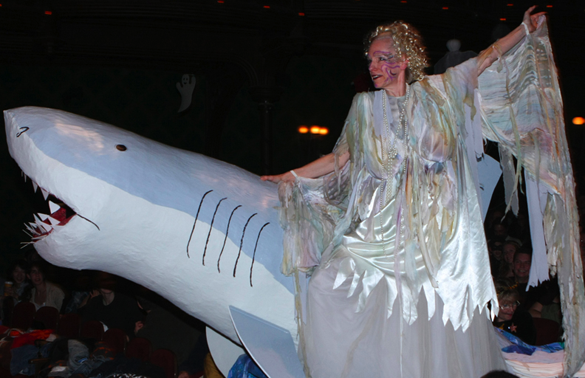 The University Symphony Orchestra's annual Halloween concert is a treat for the ears—and the eyes.
By Benjamin Recchie, AB'03
---
Many a Hyde Park Halloween reveler has started his or her evening with the annual concert given by the University Symphony Orchestra. I caught up with Barbara Schubert, X'79, senior lecturer in music and conductor of the USO, about this annual tradition.
---
How long has the USO offered a Halloween concert?
I think the first Halloween concert we gave was in 1980, when Mandel Hall was being renovated. That one took place in the Ida Noyes gym, which is now the Max Palevsky Cinema. It featured pretty typical Halloween fare: Night on Bald Mountain, The Sorcerer's Apprentice, and Danse Macabre. I've gotten a lot more creative since then.
There were a couple of years that I didn't program a Halloween concert, but by now I think I'm up to number 28.
What music is the symphony performing this time around?
This year the theme is "Arabian Nights," a theme that provides a wonderful opportunity for costumes, dancing, and storytelling, along with great music. The central piece is Rimsky-Korsakov's Scheherazade, which of course is a famous orchestral masterpiece. In addition we're doing some lesser-known works that fit the theme: Charles Tomlinson Griffes's The Pleasure Dome of Kubla Khan and several movements from Carl Nielsen's Aladdin Suite.
How do you choose what pieces to perform?
There are so many factors that enter into my programming decisions for this concert, or for any concert: challenge and appeal for the musicians, enticement and entertainment for the audience, variety over the course of a season and from year to year, and appeal, challenge, and variety for me as conductor. In addition, I always try to program some repertoire that is not standard fare—great music that you don't hear every day and that other orchestras may never play. I'm trying to do my part to counteract the "nothing-but-the-warhorses" approach of many professional, community, and university orchestras. The Griffes piece is one such treasure: it's a luxuriant score, displaying the influence of the French Impressionist school as well as Griffes's distinctive voice. It is, of course, inspired by the poem by Samuel Taylor Coleridge that tells the story of Xanadu and its "stately pleasure dome" within a beautiful garden.
One tradition of the concert is that you and the musicians come in costume, correct?
I'm always delighted to see the creativity of our musicians expressed through their colorful and imaginative costumes. The French horn section has a long-standing tradition of matching garb. They've had so many distinctive and occasionally flamboyant creations: one year they all came as Big Bird, another year they were all ice cream cones, and so on. I never know in advance what they're going to do: they keep it a closely guarded secret.
What should a first-time audience member be prepared to listen for—and see?
While there are lots of theatrical extras involved in this concert, it is first and foremost a concert, featuring earnest and artistic performances of great music. Yes, there are decorations all around Mandel Hall; yes, there is a special entrance by yours truly down the center aisle; yes, there is storytelling, set by yours truly in patently unsophisticated verse; yes, there is dancing in the aisles by the wonderful young dancers from the Hyde Park School of Dance. But first and foremost, the purpose is to bring the audience excellent performances of great music. The orchestra works very hard to prepare the concert with only a month of rehearsal. It is a testament to the talent of our student musicians that they're able to do that.
What's your favorite thing about this concert?
Without question, my favorite aspect of this concert is the enthusiasm of the audience. We have kids of all ages, family groups of all combinations, college students, community members, and the like who come to the concert—many of them in costume, of course. They are enthralled and inspired by the whole event, and many make it an annual tradition. I love talking to the audience members as they exit the hall. Energy and enthusiasm are both high, and it makes me feel that we are really doing something meaningful to build the audience for classical music. The most frequent comment that I get at the exit door, though, is the question of what I'm going to program next year.
---
In my experience, the Halloween concert has always been a lighthearted and family-friendly affair, so bring your kids (or just the kid in you) to Mandel Hall on Saturday, October 29. There are two performances, one at 7 p.m. and the next at 9 p.m. Admission is free, but donations are accepted at the door. (Suggested donations are $8 general, $4 students/children. Children under 12 must be accompanied by an adult.)
---
Barbara Schubert in last year's Halloween costume. What will she wear this year? You'll have to come to find out.
Photo courtesy Barbara Schubert.
October 28, 2011