May 2012

| Sun | Mon | Tue | Wed | Thu | Fri | Sat |
| --- | --- | --- | --- | --- | --- | --- |
| | | 1 | 2 | 3 | 4 | 5 |
| 6 | 7 | 8 | 9 | 10 | 11 | 12 |
| 13 | 14 | 15 | 16 | 17 | 18 | 19 |
| 20 | 21 | 22 | 23 | 24 | 25 | 26 |
| 27 | 28 | 29 | 30 | 31 | | |
---
CATEGORIES
---
RECENT ENTRIES
---
BLOG ROLL
Books, glorious books!
"Great Book Sale This Way," screamed the neon-orange sign taped to International House's front door. A large arrow pointed the way to I-House's Assembly Hall. A smaller, handwritten sign hailed, "Buy 1 Get 1 Free. Today Only!" The occasion: University of Chicago Press's first book sale in more than 20 years—an opportunity for the press to get rid of some overstock—and for readers to purchase titles ranging from natural history to legal scholarship to critical theory.
Inside Assembly Hall, 20-odd tables held books nestled in brown boxes. In the background a live Johnny Cash album played. Around noon on the sale's second (and last) day, thousands of titles remained, and the room seemed more like a library—browsers quietly combed through the boxes of books—than a store with a fire sale. Although the selection was what one undergraduate repeatedly called "esoteric" as she peered into the cardboard boxes and mumbled to herself and her companions, the opportunity to strike upon true treasures did present itself—though of course, for every customer such a treasure was a different book. Some cooed over Lee Siegel's Love in a Dead Language, while others pounced on Richard Posner's Aging and Old Age.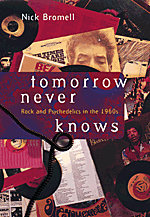 As they scanned the titles, customers studiously avoided eye contact. Some filled up their own boxes with dozens of volumes, eager to cart home volumes upon volumes of critical texts. I picked up, among others, a book on 1960s psychedelics and rock and roll (Tomorrow Never Knows by Nick Bromell), which I found discarded in the natural-science section—it belonged in popular culture. I seriously considered but eschewed, for space concerns, a large art-and-architecture book on how hotels influenced the Cold War (Building the Cold War: Hilton International Hotels and Modern Architecture by Annabel Jane Wharton). I was more selective than most of the crowd, picking up only a half-dozen books—with the sale, it was difficult to leave with fewer. The only challenge came when the most eager customers, after purchasing a box filled with texts, had to figure out how to carry them home on the back of a bicycle.
R.S.
October 10, 2008