May 2012

| Sun | Mon | Tue | Wed | Thu | Fri | Sat |
| --- | --- | --- | --- | --- | --- | --- |
| | | 1 | 2 | 3 | 4 | 5 |
| 6 | 7 | 8 | 9 | 10 | 11 | 12 |
| 13 | 14 | 15 | 16 | 17 | 18 | 19 |
| 20 | 21 | 22 | 23 | 24 | 25 | 26 |
| 27 | 28 | 29 | 30 | 31 | | |
---
CATEGORIES
---
RECENT ENTRIES
---
BLOG ROLL
Party under the portraits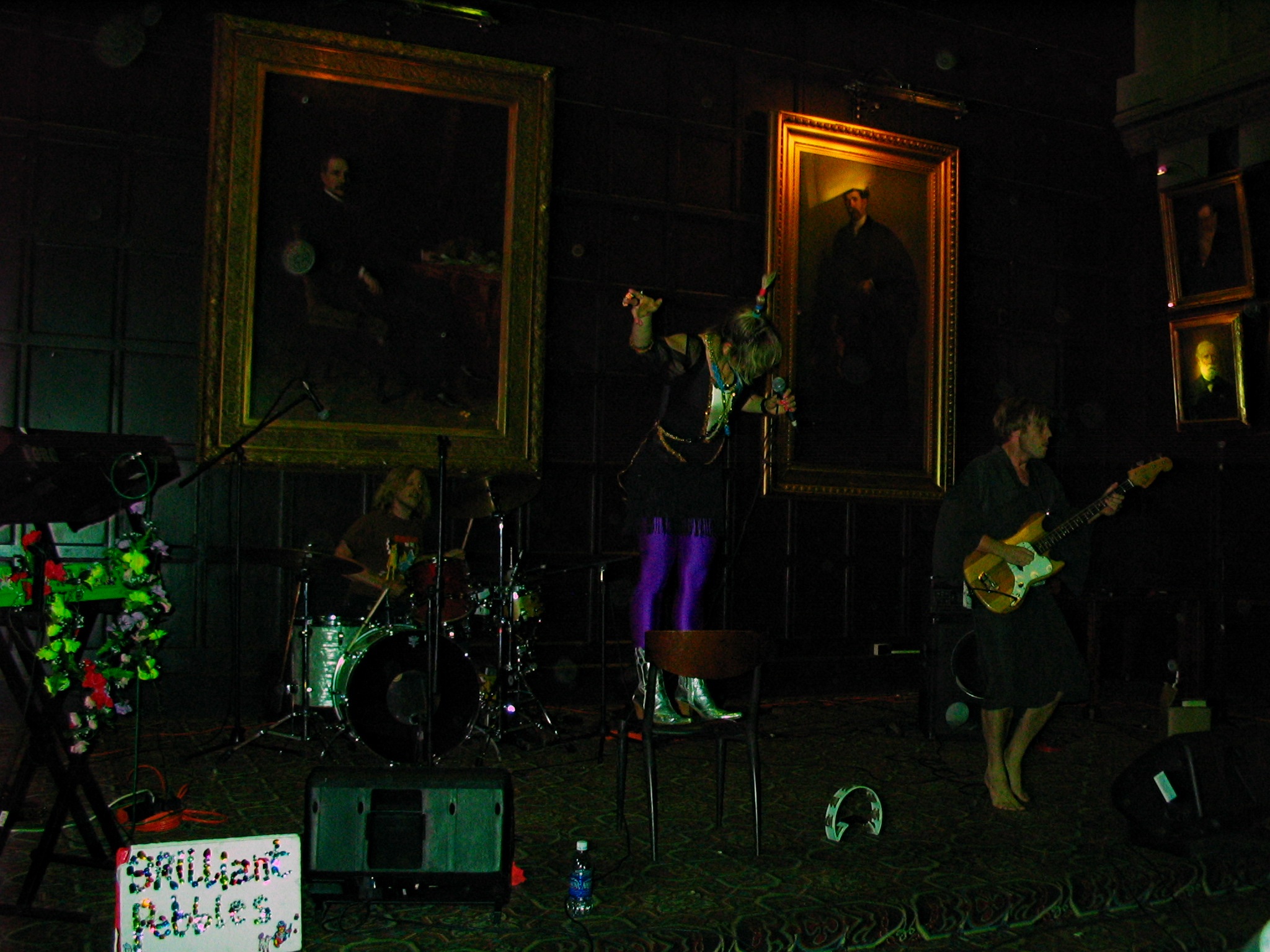 By 5:35 p.m. Friday, the Chicago Weekly staff had moved the Hutchinson Commons tables to the room's edges and stacked hundreds of chairs on top of one another, so we thought we were running ahead of schedule for the 7 p.m. start time. Next we put together the dance floor—big enough to accommodate 13 middle-school step-team members and sturdy enough to remain in place while several ballerinas jétéed across its expanse. Turns out that it takes a half-dozen U of C students about an hour to put together a floor.
We were preparing Hutch for Reorientation, an annual event thrown by the Chicago Weekly, where I'm the arts-and-culture editor. Chicago Weekly focuses on Chicago's South Side: campus culture and news, but also neighborhoods outside Hyde Park. Reorientation showcases some of the best of what we cover. This year, aside from Off-Off Campus and University Ballet, we invited a nationally ranked step team and two local rock bands to perform. The event also served as a release party for our zine, the Midwestern Edition, which features art, fiction, and nonfiction from both Weekly staff and others who submit work—an attempt to, as Weekly editor-in-chief Sean Redmond, '09, put it in the first issue, "offer a bit of artistic achievement, unmediated, from our hands to yours."
University students began showing up for Off-Off, who opened our show, at 7:10. Although Hutch's high ceiling and somber portraits were not quite conducive to improvisational comedy, the troupe garnered laughs from the dozens of students in the crowd. The members of the KIPP Ascend Charter School team took the stage next and performed a 15-minute routine that showed their stepping skills, which incorporates dance elements and keeps rhythm with hand-clapping, stomping, and chanting. When they finished, visual-arts editor Yennie Lee, '10, took the microphone and exclaimed, "I can promise you that the portraits on this wall have never seen something like that!"
After a performance by the Names that Spell, a Hyde Park–based rock band, headliners Brilliant Pebbles took the stage. Tossing the audience gifts such as a troll doll, pom-poms, and a bright-purple boa, the four-person, new-wave-glam band delivered an enthusiastic set. Often performing as an opening act and at Bridgeport art shows, the band enjoyed headlining. "You're the most genuine audience we've ever had," noted lead singer Monika Bukowska to the remaining crowd of about two dozen stalwarts, composed partly of dancing Weekly staff. The band finished at 10:45 p.m. and stuck around—handing us all psychedelic business cards and more glittery goodies. As they packed up their gear, we moved the large wooden tables back, and by midnight Hutch was its old somber self.
Rose Schapiro, '09
The KIPP step team performs its routine; Brilliant Pebbles sings to us.
October 22, 2008