May 2012

| Sun | Mon | Tue | Wed | Thu | Fri | Sat |
| --- | --- | --- | --- | --- | --- | --- |
| | | 1 | 2 | 3 | 4 | 5 |
| 6 | 7 | 8 | 9 | 10 | 11 | 12 |
| 13 | 14 | 15 | 16 | 17 | 18 | 19 |
| 20 | 21 | 22 | 23 | 24 | 25 | 26 |
| 27 | 28 | 29 | 30 | 31 | | |
---
CATEGORIES
---
RECENT ENTRIES
---
BLOG ROLL
Return of the seniors
Last Wednesday the first blast of cold air started to turn the quads' leaves yellow, and around 5:30 p.m the Class of 2009 gathered in Hutchinson Courtyard. Open grills around two of Hutch's entrances emitted the familiar smells of cooking hot dogs and hamburgers. As students trickled in from their afternoon classes, the grassy slopes lining the stone courtyard filled with crowds. Students perched on the side of the drained fountain and waited to hail their friends.
The College Programming Office, which hosted the welcome-back barbecue for fourth-years, advertised complimentary Class of 2009 water bottles for the first 500 attendees. Helpful CPO members gestured to permanent markers next to the bottles: "Don't forget to put your name on it!" Printed on each bottle was a cartoon gargoyle perched atop a tower and reading a book—perhaps a timely prophecy for how many in the senior class have already been spending fall quarter: overstuffed schoolbags were as common a sight as overstuffed students.
After queuing up for bratwurst, chicken, hamburgers, and veggie burgers, some seniors jostled to fill their new water bottles with iced tea from bright-orange coolers set up on tables. The whole courtyard was awash with returning students munching on food while comparing summer adventures and plans for the new school year—presumably their last as undergraduates. The festivities spread into the Reynolds Club, where seniors lounged on the stairs that lead to the second floor. Even as the sun set and the quad lights turned on, scores of students returned for seconds and thirds before heading back to their residences or the library. By 7:30 p.m., although the garbage cans were stuffed with paper plates and empty condiment packages, the courtyard itself was almost empty.
Rose Schapiro, '09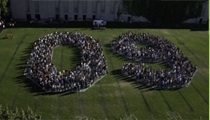 The Class of 2009 poses for its first-year photo in fall 2005.
October 15, 2008