May 2012

| Sun | Mon | Tue | Wed | Thu | Fri | Sat |
| --- | --- | --- | --- | --- | --- | --- |
| | | 1 | 2 | 3 | 4 | 5 |
| 6 | 7 | 8 | 9 | 10 | 11 | 12 |
| 13 | 14 | 15 | 16 | 17 | 18 | 19 |
| 20 | 21 | 22 | 23 | 24 | 25 | 26 |
| 27 | 28 | 29 | 30 | 31 | | |
---
CATEGORIES
---
RECENT ENTRIES
---
BLOG ROLL
Art break
It's easy to tell when the halls of Cobb will be bustling and when they will be bleak. From about two minutes before one class session ends to about four minutes after the next begins—11:48 a.m. to 12:04 p.m., for instance—Cobb floods with students loudly stomping up and down the five flights of stairs.
Many students who stream in and out don't know about the Renaissance Society, located on the fourth floor, which showcases cutting-edge contemporary art. But for those who do know about it, what's a better place to spend a half-hour before class than in one of the Midwest's premier galleries? It's a great way to decompress with a few moments of something different.
The Renassiance Society's current something different is Francis Alys's Bolero (Shoe Shine Blues), on exhibition through December 14. The large installation features a room—a box, really—made of rough-hewn, industrial-building wood. Inside the box hang hundreds of drawings of a shoe being shined by a pair of skilled hands. Alys also turned the drawings into an animated film, which a visitor can watch by climbing external stairs to the top of the box. Five huge floor pillows sit in front of the video screen, which shows the animation, accompanied by music and lyrics that Alys composed.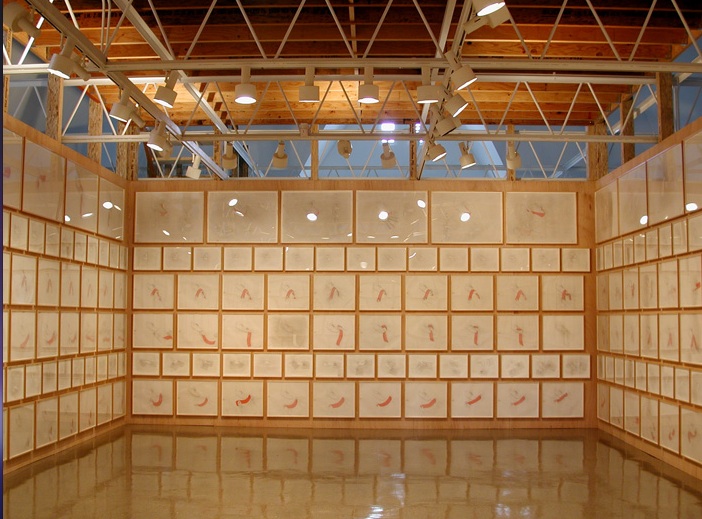 I spent my break watching the film, which empathizes with society's relegation of the shoe shine to hierarchical invisibility—curator Hamza Walker, AB'88, notes in his exhibition essay that Bolero "converts animation into a site where drawing is not only privileged for harboring artisanal skill, but for translating that skill into a display of labor that, like that of its subject matter, has been marginalized."
At 1:18, like clockwork, the sounds from Cobb's corridors began to pervade the quiet gallery, and Alys's haunting clarinet was joined by elevators grinding and students chattering about Plato in the hallway. And I was reminded that it was time to go to class—luckily, right downstairs.
Rose Schapiro, '09

The inside of the
Bolero
installation.
Image courtesy the Renaissance Society
November 12, 2008