May 2012

| Sun | Mon | Tue | Wed | Thu | Fri | Sat |
| --- | --- | --- | --- | --- | --- | --- |
| | | 1 | 2 | 3 | 4 | 5 |
| 6 | 7 | 8 | 9 | 10 | 11 | 12 |
| 13 | 14 | 15 | 16 | 17 | 18 | 19 |
| 20 | 21 | 22 | 23 | 24 | 25 | 26 |
| 27 | 28 | 29 | 30 | 31 | | |
---
CATEGORIES
---
RECENT ENTRIES
---
BLOG ROLL
Drawing power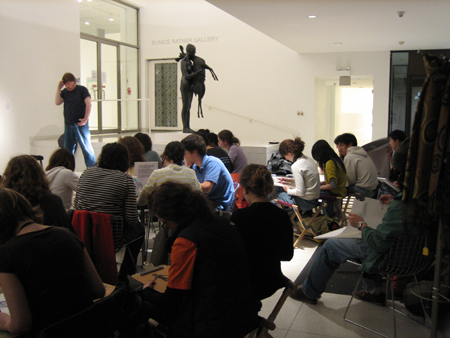 More than 50 students crowded into the Smart Museum's lobby Thursday night for "Make Your Mark," an opportunity to sketch from a live model and enjoy sushi and music. The Smart provided drawing materials, but I arrived late and there was only newsprint left. I haven't done any sketching since the Core art class I took as a first-year, so I thought the finicky nature of newsprint might put it out of my league. Instead, somewhat relieved, I took out my camera, pen, and notepad. The students' skill levels varied widely: a friend of mine had a blank page by the hour's end, while others had produced multiple detailed sketches.
The event was both relaxing and lively, with classical music and a brightness that contrasted the rain outside. People were courteously quiet but not oppressively so, and no one frowned on chatting. The "live model," a heavyset man with reddish hair, was in fact clothed—this had been a topic of some pre-event discussion, especially for those of us unaccustomed to figure drawing.
Sue Donovan, '09, cochair of the Smart Museum Activities Committee, which planned the evening along with the museum's Director of Education Kristy Peterson, told me that this year's event was "even better" than last year's debut. "We thought it would be nice," she explained, "to do a combination of art gallery and constructing art."
The aura was so creative, in fact, that Alaina Valenzuela, '11, became an impromptu model for her friends who sat on the stairs near the entrance and couldn't see the model across the lobby well enough to draw him. She had no prior experience modeling, Valenzuela told me, but her friend Ainsley Sutherland, '11, pointed out that she is a dancer so her pose—standing with both arms above her head—came naturally. "It was a lot easier for me at least," Sutherland said. "We could tell her what poses we wanted."
Shira Tevah, '09

Students filled the Smart's lobby; Noelle Barber, '10, sketches from the model.
November 14, 2008