May 2012

| Sun | Mon | Tue | Wed | Thu | Fri | Sat |
| --- | --- | --- | --- | --- | --- | --- |
| | | 1 | 2 | 3 | 4 | 5 |
| 6 | 7 | 8 | 9 | 10 | 11 | 12 |
| 13 | 14 | 15 | 16 | 17 | 18 | 19 |
| 20 | 21 | 22 | 23 | 24 | 25 | 26 |
| 27 | 28 | 29 | 30 | 31 | | |
---
CATEGORIES
---
RECENT ENTRIES
---
BLOG ROLL
Macroeconomics—with a local angle
"I've held hundreds of town meetings in towns of less than 100," U.S. Senator from Vermont Bernie Sanders, AB'64, told hundreds of listeners in Kent Hall Tuesday night. "I've personally talked to every resident of the state of Vermont." He wasn't bragging, he said, but trying to convey a "dose of reality" that others might not get. "I've talked to people who have lost their jobs," he said, "and people who work incredibly long hours and are further behind at the end of the week than they were at the beginning. I've talked to thousands wondering how they'll stay warm in the 20- and 30-below temperatures in Vermont."
Sanders, elected to the House in 1990 and the Senate in 2006, was on campus to register his protest against the University naming its new institute for economic research after Milton Friedman, a 1976 Nobel Prize–winner who taught at Chicago for 30 years. Sanders's talk, sponsored by the Committee for Open Research on Economy and Society (CORES), Students for CORES, Chicago Society, Students for a Democratic Society, and Stand-Up for Progress, was funded in part by Student Government.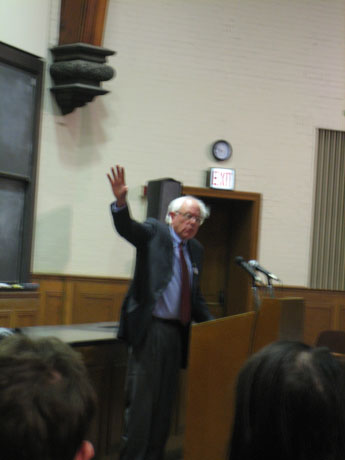 A self-described socialist and the longest-serving independent member of Congress, Sanders traced his constituents' hardships to Friedman's (AM'33) "right-wing ideology, which has caused enormous damage to the working people around the world." The ideas propounded by the longtime Chicago economics professor aren't "brilliant economic theory," Sanders said, but "a wish list for the wealthy and the powerful": removing the minimum wage, unions, and the "estate tax that affects three-tenths of one percent" of Americans. Friedman once termed Social Security "unethical"; Sanders called it "the most successful antipoverty program in the history of our country."
Now that the economy is in crisis, Friedmanites "have changed their tune," Sanders said, and are "lining up for their welfare checks outside Congress"—the $7 trillion bailout. Instead government should "start dismantling those financial institutions," he argued. "Friedman's ideas are dead wrong," he concluded, "economically, morally, and philosophically. It's a bad idea to start an institution that emblazons and propagates them."
On Sanders's way out, two other Vermonters and I introduced ourselves. He was excited to see us and noted how rare students from his state are at the University. He asked my field, and I told him I was studying public policy. "DC is a very exciting place to be," he said, encouraging me to go into government or policy. "28-year-olds are making all the big policies!"
Shira Tevah, '09
Bernie Sanders, AB'64, addressed a crowd of several hundred Tuesday night.
Photo by Daniel Benjamin, '09.
December 3, 2008