May 2012

| Sun | Mon | Tue | Wed | Thu | Fri | Sat |
| --- | --- | --- | --- | --- | --- | --- |
| | | 1 | 2 | 3 | 4 | 5 |
| 6 | 7 | 8 | 9 | 10 | 11 | 12 |
| 13 | 14 | 15 | 16 | 17 | 18 | 19 |
| 20 | 21 | 22 | 23 | 24 | 25 | 26 |
| 27 | 28 | 29 | 30 | 31 | | |
---
CATEGORIES
---
RECENT ENTRIES
---
BLOG ROLL
To Reg or not to Reg
Mother Nature often brings one of the season's first snowy bursts just in time for autumn-quarter finals week, which begins today. This weekend was no exception, and, as usually happens during a frosty reading period, students divide into two factions. One group frolics outside and extols the beauty of the snow-coated trees, often to the annoyance of the opposing bloc, which sees the constant chill of drifting snow as a good reason to stay in the library for an extra two (or three, or four) hours. And finals week is as a good a time as any—in fact, some might argue, the best time—to study ceaselessly.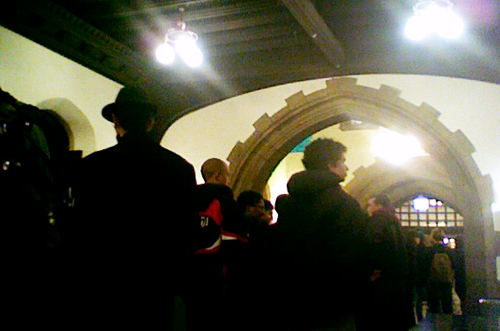 From early afternoon until late evening Sunday, nearly every seat in the Regenstein was occupied. This finals week I have to write too many long papers to appreciate the snow. But out the library windows I could see snowmen, stick arms and all, on the Bartlett Quadrangle. Students staged an impromptu snowball fight outside Max Palevsky, careful not to hit those headed to the Reg, identifiable by their heavy backpacks or armloads of books.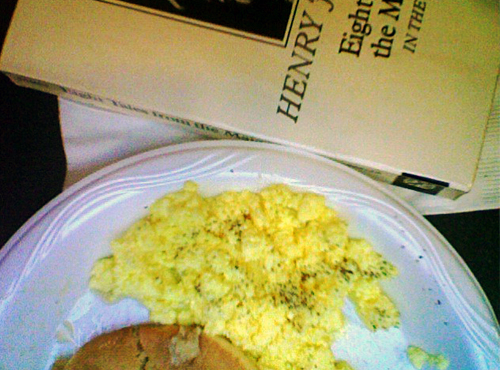 But even the most hardcore library sloggers need a study break. By midnight the temperature had warmed slightly, and both snow enthusiasts and study hounds met at the College Programming Office's quarterly midnight breakfast in Hutchinson Commons. Students hugging the precious Marx-Engels Reader (Self, Culture, and Society) mingled with friends practicing Japanese characters and others who had come in from yet another snowball battle. After CPO and ORCSA staff had served hundreds of attendees eggs, pancakes, sausage, and hash browns, the crowds began to melt away. Some returned to perching in the all-night study spaces at the Reg or Crerar, and some went home to bed—or to write from the comfort of their living rooms. It seemed, at least briefly, that enough snowballs had been thrown to appease the revelers.
Rose Schapiro, '09
Students line up for midnight breakfast; eggs and books mingle in Hutchinson Commons.
December 8, 2008