May 2012

| Sun | Mon | Tue | Wed | Thu | Fri | Sat |
| --- | --- | --- | --- | --- | --- | --- |
| | | 1 | 2 | 3 | 4 | 5 |
| 6 | 7 | 8 | 9 | 10 | 11 | 12 |
| 13 | 14 | 15 | 16 | 17 | 18 | 19 |
| 20 | 21 | 22 | 23 | 24 | 25 | 26 |
| 27 | 28 | 29 | 30 | 31 | | |
---
CATEGORIES
---
RECENT ENTRIES
---
BLOG ROLL
Arts and tartes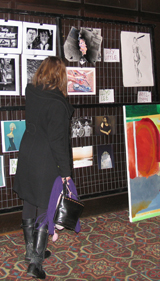 When I entered the Reynolds Club last night, a crowded line of students trying to get to the second floor stretched all the way down to the front door. The occasion for the melee was not another distinguished speaker, but student literary magazine Sliced Bread's Winter Arts Festival.
The sounds of the One Dub Dirty Love Jazz Club (whose name is a good approximation of their oeuvre) echoed across the hall while some in the crowd perused a board displaying photographs and paintings from last year's Festival of the Arts (FOTA), and others took advantage of clay workshops sponsored by Hyde Park Art Center. The hungrier throngs headed straight for Hallowed Grounds Coffee Shop, where I work as a barista, for the main attraction: free food, including fancy treats like tiramisu and strawberry shortcake.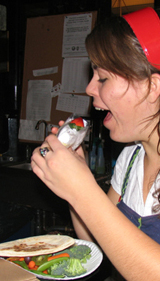 Our usually serene coffee shop was a site of pandemonium. I generally don't have to elbow my way in past concerned building managers. Because I already had dinner plans, I perched at the counter and looked on with Marie Donohue, '11, who was about to finish her shift. Another barista, Jasmine Heiss, '10, darted behind the counter, her plate full of free food. "I'm not sure I can stock anything right now," she said, surveying the line, which blocked access to most of the shop's essential implements. "This is crazy."
By 8:30 p.m. the food line had shortened. Performance groups, including UC Dancers and three campus bands, cycled through all evening, doing their acts in the McCormick-Tribune Lounge. Across the building students settled in, making art on the plastic-wrapped tables until midnight. Support for the festival came from the UnCommon Fund, a Student Government initiative meant to stimulate participation in campus life.
Rose Schapiro, '09
Andrea Rowan, '09, looks at the FOTA display; Jasmine Heiss, '10, enjoys her free food.
January 30, 2009