May 2012

| Sun | Mon | Tue | Wed | Thu | Fri | Sat |
| --- | --- | --- | --- | --- | --- | --- |
| | | 1 | 2 | 3 | 4 | 5 |
| 6 | 7 | 8 | 9 | 10 | 11 | 12 |
| 13 | 14 | 15 | 16 | 17 | 18 | 19 |
| 20 | 21 | 22 | 23 | 24 | 25 | 26 |
| 27 | 28 | 29 | 30 | 31 | | |
---
CATEGORIES
---
RECENT ENTRIES
---
BLOG ROLL
Photography 101 with Professor Dan Dry
You've read about our Peeps diorama contest in the Jan–Feb Lite of the Mind (if it hasn't arrived in your mailbox yet, check out "Peeps into our Pages" tomorrow). But creating your UChicago-themed diorama and eating the extra marshmallows are only part of the fun. Before you point and shoot, check out these practical suggestions from Magazine photographer Dan Dry.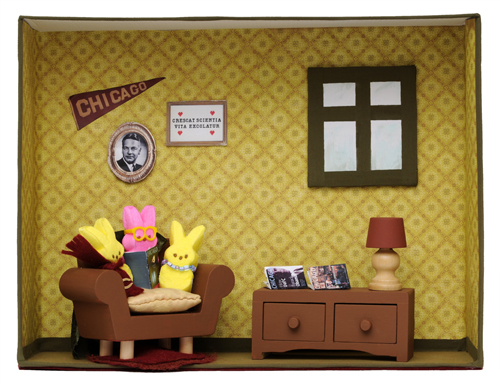 Lighting: If you're shooting during the daytime, find a spot near a window to set up your diorama. You want the natural light to stream in from the side. If it's nighttime, use a table lamp with a nonfluorescent bulb to add warmth to your photo.
Background: Iron a good, old-fashioned white cotton bedsheet, and tape it on the wall—the fabric should drape onto the floor. Set your diorama on top of the bedsheet, and remember to leave ample cloth in front, behind, and on the sides so that the interior of your home will not appear in the periphery of the pictures.
Zooming: Have your lens zoomed all the way out, and adjust the settings on your camera to take pictures at the highest-possible resolution.
Positioning: For a straight-on shot, arrange yourself at eye-level with the diorama, and then shoot away. Be creative and test out several angles.
Editing: Analyze your photographs. If you don't like the pictures, redo your shoot. Even a professional like Dan believes there's nothing wrong with taking additional pictures.
---
Prefer to learn by example? Use Dan's photo (above) as a guideline for how to make a snap of your diorama. His example is well lit, simply composed, and taken without distortions at a high enough resolution so all details are visible.
E.C.
January 26, 2009