May 2012

| Sun | Mon | Tue | Wed | Thu | Fri | Sat |
| --- | --- | --- | --- | --- | --- | --- |
| | | 1 | 2 | 3 | 4 | 5 |
| 6 | 7 | 8 | 9 | 10 | 11 | 12 |
| 13 | 14 | 15 | 16 | 17 | 18 | 19 |
| 20 | 21 | 22 | 23 | 24 | 25 | 26 |
| 27 | 28 | 29 | 30 | 31 | | |
---
CATEGORIES
---
RECENT ENTRIES
---
BLOG ROLL
Blinded by the light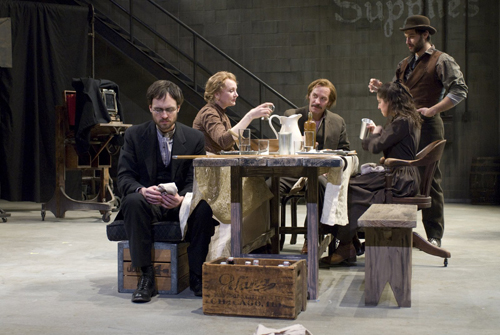 Henrik Ibsen wastes no time introducing a preoccupation with light in The Wild Duck, and Court Theatre's latest production, directed by Charles Newell at the Museum of Contemporary Art, engages the theme quite successfully. The script, based on Richard Nelson's new adaptation, maintains Ibsen's original content largely unaltered. The questionable moral behavior and revealing hereditary blindness that spread from the wealthy industrialist Håkon Werle's light-filled home end in the breakdown of the family of his former partner, Old Ekdal.
The lighting, designed by Jennifer Tipton, becomes a character in its own right. In the Ekdals' shadowy loft, bare bulbs glow eerily above the action; one backlit wall diffuses the natural light of the outside world, while a humming, actor-operated spotlight illuminates an interrogation between Hialmer Ekdal (Kevin Gudahl) and his wife, Gina (Mary Beth Fisher). Although some players overact, Gudahl and Fisher shine. A well-matched pair, they portray the humor and calamity of Ibsen's tragedy with ease and accuracy.
As the story unfolds into an untamed hunt for answers, the textures of light interact with the characters' emotional and physical blindness. And when the play ends and the lights go down, the audience experiences its own blindness in the dark of the theater.
Take the opportunity to be the wild duck watching from the rafters and see the demise of the Ekdals for yourself. The Wild Duck runs through February 15 at the MCA.
Hanna Ernst, U-High'04
A scene from Charles Newell's production of Richard Nelson's new translation of Henrik Ibsen's play
The Wild Duck
.
Photo by Michael Brosilow, courtesy of the Court Theatre.
February 2, 2009