May 2012

| Sun | Mon | Tue | Wed | Thu | Fri | Sat |
| --- | --- | --- | --- | --- | --- | --- |
| | | 1 | 2 | 3 | 4 | 5 |
| 6 | 7 | 8 | 9 | 10 | 11 | 12 |
| 13 | 14 | 15 | 16 | 17 | 18 | 19 |
| 20 | 21 | 22 | 23 | 24 | 25 | 26 |
| 27 | 28 | 29 | 30 | 31 | | |
---
CATEGORIES
---
RECENT ENTRIES
---
BLOG ROLL
I wear my 3D glasses at night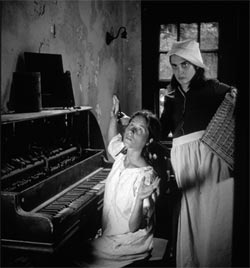 Filtering into the Film Studies Center on Thursday evening, we were each handed a pair of what looked like very unattractive sunglasses. They were plastic, black, and flimsy, but also absolutely essential for the evening's program, a selection of films avant-garde filmmaker Zoe Beloff chose to contextualize her film Charming Augustine, a 40-minute stereoscopic work inspired by photographs of Paris's Salpêtrière asylum in the 1870s.
Charming Augustine dramatizes the story of a young girl, Augustine, who was the most photographed patient at the asylum. Augustine's poses both evoked her madness and alluded to the expressiveness of classical acting, and every word she spoke during her hysteric fits was documented. Beloff said that she set out to make the film that "the doctors wanted to make," imagining the intersection of medical documentary and the medium of sound film, which would not be invented for another 50 years.
Underlining this point, Beloff showed D. W. Griffith's melodrama The Painted Lady, the story of a young woman who is betrayed by her sweetheart and kills him by mistake before collapsing in hysteric fits and hallucinations. She followed it with the medical film A Case History of Multiple Personality, which features a woman taking on various personae in the company of her neighbors and friends.
To show Charming Augustine, Beloff wheeled out a special screen. The three-dozen audience members donned their glasses as the lights went down, and the projector, located in the center aisle, began its steady whirring. Beloff picked the stereoscopic format partly to evoke the feeling of what the film might have been if made in the 19th century, explaining that many of the photographs doctors took were in stereo, and that "the 19th century was actually much more about stereoscopic images than the 20th turned out to be." The result was a lush black-and-white image that popped from the screen, with a pronounced, eerie foreground. The story of Augustine's fits moves into her ether dreams and hallucinations, and finally concludes when Augustine steals men's clothes and escapes the asylum—an ending taken directly from reality. The real Augustine was never heard from again.
Rose Schapiro, '09
February 27, 2009