May 2012

| Sun | Mon | Tue | Wed | Thu | Fri | Sat |
| --- | --- | --- | --- | --- | --- | --- |
| | | 1 | 2 | 3 | 4 | 5 |
| 6 | 7 | 8 | 9 | 10 | 11 | 12 |
| 13 | 14 | 15 | 16 | 17 | 18 | 19 |
| 20 | 21 | 22 | 23 | 24 | 25 | 26 |
| 27 | 28 | 29 | 30 | 31 | | |
---
CATEGORIES
---
RECENT ENTRIES
---
BLOG ROLL
Information Booth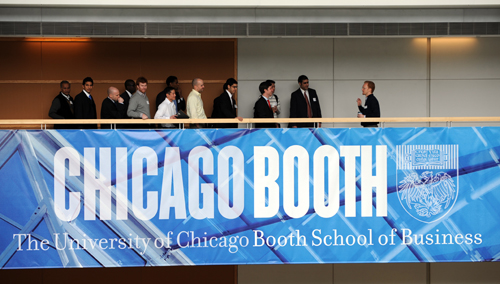 Robyn Gelfand has been considering getting an MBA for about two years now. An account supervisor at a Denver marketing firm, she's planning a move to Chicago with her husband. "The time is right" for her to return to school, she said before a Chicago Booth prospective-student information session last Friday.
And her decision has nothing to do with the recession, she emphasizes. "I'm happily employed right now, but I feel that business school is a valuable long-term investment."
Other applicants may not be so lucky in this economic climate. Chicago Booth has always been very competitive, but the school's admissions committee has noticed higher-than-usual interest this year. "We have definitely experienced an increase in visitors over the past few months," says assistant director of admissions Carrie Lydon.
Friday's session drew ten crisply dressed 20-somethings, including two men from India here on business—they work for the global management-consulting firm ZS Associates—who decided to check out the school. At the front of the room sat Andrea Schmoyer, Chicago Booth's associate director of admissions and financial aid, and Cassandra Davis, a first-year MBA student, both taking questions from the eager attendees—about study-abroad opportunities, this year's pool of applicants, and how career services is working to help students and alumni. Davis praised the career-services office, explaining that its staff reached out to the first-years as early as August to explain how to stand out "when you are out with the rest of the masses." Recruiters still come to campus, though not quite as often as before, and her classmates have gotten internships and jobs: "There was celebration this year."
The session wasn't all shop talk. "No social-life questions?" Davis asked toward the end, noting that 70 percent of first-year MBA students don't live in Hyde Park because there aren't many good bars or restaurants. (Note: This writer disagrees: Jimmy's is a charming neighborhood watering hole, and the U of C Pub offers a great beer selection. Also, more restaurants have been populating Hyde Park every year—the recently opened Shinju Sushi on 53rd offers quite tasty all-you-can-eat sushi. And the Med, Dixie Kitchen, Harold's—classic!) Davis did highlight the selection of daily campus events and social activities open to Booth students: "You can be busy every day of the week if you want to."
Ruth E. Kott, AM'07
Photos by Dan Dry.
Top: Chicago Booth offers daily half-day visits for prospective students, which include a tour of the Charles M. Harper Center. Bottom: The number of visitors has increased over the past few months; this past Monday's information session drew more than 15 potential applicants.
February 11, 2009