May 2012

| Sun | Mon | Tue | Wed | Thu | Fri | Sat |
| --- | --- | --- | --- | --- | --- | --- |
| | | 1 | 2 | 3 | 4 | 5 |
| 6 | 7 | 8 | 9 | 10 | 11 | 12 |
| 13 | 14 | 15 | 16 | 17 | 18 | 19 |
| 20 | 21 | 22 | 23 | 24 | 25 | 26 |
| 27 | 28 | 29 | 30 | 31 | | |
---
CATEGORIES
---
RECENT ENTRIES
---
BLOG ROLL
Magical thinking
---
Magazine intern Shira Tevah, '09, is spending winter quarter abroad as part of Chicago's African Civilizations course. This is her second dispatch from South Africa.—Ed.
---
"How to describe Clanwilliam?" Chris Dorsey, program staff and teaching assistant for John Comaroff's course, repeated a student's question. "The only thing I can really tell you is it's magical." After two-and-a-half hours through beautiful plain and over a mountain—and a tour of African music on Comaroff's iPod—we arrived in a place that was, indeed, magical: we swam under the stars, examined rock art by flashlight, and learned firsthand about a small part of South Africa's social, political, and geographic landscape.
Our group stayed at a lodge run by the Clanwilliam Living Landscape Project, which involves residents for local archeology ventures. John Parkington, the most active of five project trustees, persuaded the University of Cape Town, where he chairs the archeology department, to buy the land in 1997. The university, he says, "has an idea of social responsiveness," and a "responsibility to enrich the local school curriculum." Clanwilliam's current claims to fame are rooibos tea and pre-colonial hunter/gatherer rock art, the latter of which Parkington hopes to turn into an economic boon for the town.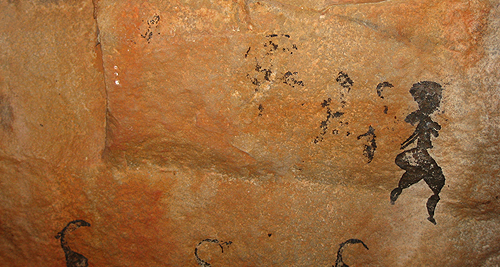 The rock art ranges from 10,000 years old to possibly 25,000 or 35,000—"about as old as it gets," Parkington says. Each set of paintings were likely painted on different occasions, so it's difficult to accurately place them in time. They depict people and animals in reds and yellows made from iron oxides, what probably once was white clay but has faded, and black. The sites we visited were not spaces for living, Parkington says, but only for ritual drawing. The drawings feature processions of men or women, often carrying weapons for hunting, and creatures that shamans might have seen in visions—half human, half animal.
The people in the paintings, says University of Chicago visiting professor David Bunn, "had a greater proximity to animals and apparent identification with them" than do modern societies, in part because they used poison arrows in hunting that took days to kill. "If you chase an eland for five days," Parkington adds, "and skin it and put the skin on your wife, and she wears it for the rest of her life, how can you not identify with it?" And old farmer's legend about baboons maintained that animals understood English and other human languages but refused to speak them because "if they did, they would be enslaved."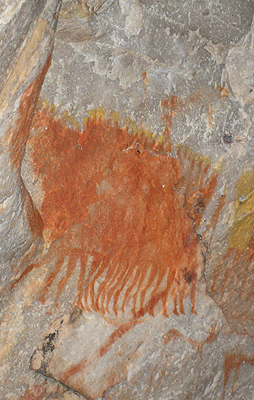 Parkington and others started the Clanwilliam project in 1995 by bringing local schoolchildren out to the rock paintings to remove graffiti and gather information. "They loved it," he says. The University of Cape Town also trained community members to be guides and work in the hospitality industry; the project, which also receives funding from the Department of Environmental Affairs and Tourism, currently hires around 35 locals. Parkington envisions people learning crafts and businesses to generate income if, as he hopes, Clanwilliam becomes a place where people come to "learn about archaeology."
But whether or not the town becomes a hot destination, the work the Living Landscape Project does is an important part of the post-apartheid world. "During apartheid," Parkington says, "there was no point in thinking about the past because you'd be painting yourself into a caricaturized corner." Now people can "construct their identity with a foot in the past" and begin to have a history. Some of apartheid's legacies are harder to undo. For instance, the Living Landscape Project had hoped to reach all schoolchildren, but the area's schools are still mostly separated by race, and their schedules are not compatible. And, part of the land that holds the rock art is owned by white farmers, some of whom have been reluctant to work with the project.
Parkington's hopes remain high. After all, "what we're researching is not only the history of this area," he says, "but the history of all of us."
Shira Tevah, '09
February 4, 2009