May 2012

| Sun | Mon | Tue | Wed | Thu | Fri | Sat |
| --- | --- | --- | --- | --- | --- | --- |
| | | 1 | 2 | 3 | 4 | 5 |
| 6 | 7 | 8 | 9 | 10 | 11 | 12 |
| 13 | 14 | 15 | 16 | 17 | 18 | 19 |
| 20 | 21 | 22 | 23 | 24 | 25 | 26 |
| 27 | 28 | 29 | 30 | 31 | | |
---
CATEGORIES
---
RECENT ENTRIES
---
BLOG ROLL
Artistic tourism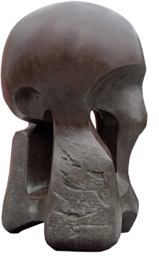 Inspired by Mayor Daley's stint as an art-minded tour guide on Monday, the Magazine chatted by e-mail with Smart Museum senior curator Richard A. Born, AM'75, about campus public art and downtown's must-see sculpture.
---
What public sculpture draws the most campus visitors?
Henry Moore's Nuclear Energy is the most popular public sculpture on campus. Moore was an internationally renowned 20th-century sculptor, and this bronze sculpture sits on the site of a momentous event in modern history: the first sustained nuclear reaction. In light of the current debates about energy policy, Moore's monumental sculpture continues to reverberate in complex ways.
What's the newest piece of public art on campus?
It's probably the large, black-painted metal construction Star Sentinels by American master Louise Nevelson. The sculpture is on long-term loan in the Smart Museum's newly re-landscaped Elden Sculpture Garden.
For those who haven't been back to Chicago lately, what do you recommend as don't-miss public art?
Definitely the "Bean"—as the Indian-born artist Anish Kapoor's Cloud Gate is popularly and affectionately called. It is a work of tremendous visual appeal and sensual form, and has in a very short time become an iconic image for Millennium Park and the City of Chicago. The sculpture's reflections and inversions of passing people, buildings, and the landscape of the park brilliantly capture the flux of Michigan Avenue.
---
RELATED READING
RECOMMENDED LINKS
March 25, 2009