May 2012

| Sun | Mon | Tue | Wed | Thu | Fri | Sat |
| --- | --- | --- | --- | --- | --- | --- |
| | | 1 | 2 | 3 | 4 | 5 |
| 6 | 7 | 8 | 9 | 10 | 11 | 12 |
| 13 | 14 | 15 | 16 | 17 | 18 | 19 |
| 20 | 21 | 22 | 23 | 24 | 25 | 26 |
| 27 | 28 | 29 | 30 | 31 | | |
---
CATEGORIES
---
RECENT ENTRIES
---
BLOG ROLL
No. 497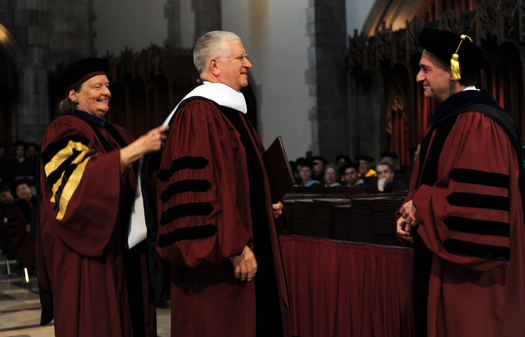 Unlike many of its peers, Chicago ceremonially confers degrees at the end of each quarter, giving people who love academic pomp and circumstance plenty of opportunities to indulge. This year's Winter Convocation, held last Friday afternoon, marked No. 497 in a series that began in 1893.
With the largest number of graduates, Spring Convocation gets broken into four separate ceremonies over three days and is held in Harper Quadrangle. Like its summer and fall cousins, No. 497 took place in Rockefeller Memorial Chapel, where the pews were crammed with robed degree candidates and their well-wishers.
The day's first degree was conferred upon musicologist and Chicago president emeritus Don Michael Randel, now president of the Andrew W. Mellon Foundation. In presenting Randel with an honorary doctorate of humane letters, Provost Thomas F. Rosenbaum termed him "an inspiring teacher and a brilliant speaker" who "called the University community to greatness, stressing the essential need for the highest forms of intellectual inquiry and expression, and embracing diversity as a personal obligation."
After a composition from Spain's Golden Age (Randel's area of expertise) was performed on the chapel's E. M. Skinner organ, the roll call of graduates began. Of the 565 degree recipients, the majority were Chicago Booth graduates, including 406 MBAs, urged by President Robert J. Zimmer to develop economic resources "for the benefit of all people," and one PhD (dissertation: "Why Are CEOs Rarely Fired? Evidence from Structural Estimation").
As the last candidate, Tiffany Noelle Mehling, came forward, the audience burst into long-awaited applause, growing to a low roar. A minute later, when it was time to sing the Alma Mater, the noise level dropped noticeably. Not to worry—Chicago's newest alumni have a lifetime to learn the lyrics.
Mary Ruth Yoe
President Robert J. Zimmer (right) watches as Don Michael Randel is hooded by professor emerita Lorna Strauss, SM'60, PhD'62.
Photo by Dan Dry
March 26, 2009