May 2012

| Sun | Mon | Tue | Wed | Thu | Fri | Sat |
| --- | --- | --- | --- | --- | --- | --- |
| | | 1 | 2 | 3 | 4 | 5 |
| 6 | 7 | 8 | 9 | 10 | 11 | 12 |
| 13 | 14 | 15 | 16 | 17 | 18 | 19 |
| 20 | 21 | 22 | 23 | 24 | 25 | 26 |
| 27 | 28 | 29 | 30 | 31 | | |
---
CATEGORIES
---
RECENT ENTRIES
---
BLOG ROLL
Let's play two... or 300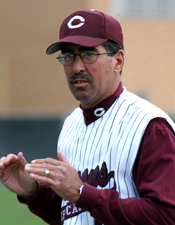 Already the winningest head coach in Chicago baseball history, Brian Baldea earned his 300th career victory on March 23 during the Maroons' ten-game, season-opening spring-break tour. Now in his 19th season at Chicago, Coach Baldea spoke to us from Phoenix while the team warmed up for a double-header against Colby College. The Maroons, now 5-5, play their first home games April 4, 5, and 7.
---
What went through your mind when you notched your 300th career victory?
I wasn't thinking about it all until after the game and the guys told me. It feels good, obviously, but I've never focused on the number of wins as the No. 1 priority here, and certainly not the number of wins for me—that's not what's important.
So what is important?
The priority is the development of these young men and what they get out of their experience from four years of baseball combined with the most outstanding undergraduate education they can get. It's all about how the experience they have with me and with baseball here contributes to them being better men and better people.
What are fans going to notice about this year's team?
We're scoring a lot more runs than we have in the past couple of years. We've had some freshmen come in and immediately contribute to key spots in our order. I think we averaged about 13 runs a game in our first seven games. So this team is putting up big numbers like we used to do five, six, eight, ten years ago.
What are your goals for the 2009 season?
I'd like to see us be a very, very strong defensive team. I need all of our pitchers to contribute so we can still compete with anybody we play, even if we don't have our top two or three pitchers available that day. If that happens, I'd like to see this team win 25 or more games this year, and I think that's possible.
What would you do if you got some baseball-free, University of Chicago–free time?
If I had total free time and no obligations, I probably would find myself watching baseball somewhere. To me, it would be awfully relaxing and satisfying just to travel around in Arizona or south Florida this time of year and watch all the guys who are trying to make their bones in Major League Baseball do it.
Last question: White Sox or Cubs?
Sox. I grew up on the South Side of Chicago, so that's a no-brainer.
Portrait courtesy of Dave Hilbert/University of Chicago Athletics Department
---
RELATED READING
RECOMMENDED LINKS
March 30, 2009