May 2012

| Sun | Mon | Tue | Wed | Thu | Fri | Sat |
| --- | --- | --- | --- | --- | --- | --- |
| | | 1 | 2 | 3 | 4 | 5 |
| 6 | 7 | 8 | 9 | 10 | 11 | 12 |
| 13 | 14 | 15 | 16 | 17 | 18 | 19 |
| 20 | 21 | 22 | 23 | 24 | 25 | 26 |
| 27 | 28 | 29 | 30 | 31 | | |
---
CATEGORIES
---
RECENT ENTRIES
---
BLOG ROLL
Silk Road in Hyde Park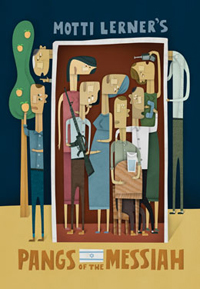 After spending eight years on campus as a student and staff member, it feels distinctly strange to be living in Chicago but not in Hyde Park. So I'm especially looking forward to returning to the quads next week for a special event hosted by the Center for Middle East Studies, a talk by Israeli playwright and peace activist Motti Lerner. In my role as director of advancement at the Silk Road Theatre Project (founded by Artistic Director Jamil Khoury, AM'92) I've been busy preparing for our production of Lerner's powerful play Pangs of the Messiah (through May 10—visit www.srtp.org for more info), and I am looking forward to hearing what he has to say, surrounded by other U of C alumni, staff, faculty and students.
In Chicago fashion, Lerner is an interdisciplinarian to the core, balancing work as a playwright, professor, and peace activist. A true Israeli patriot, he has never hesitated to challenge his own countrymen on issues of nationalism, messianism, and the intersection of religion and government. His talk will focus on the role of writing plays in a society struggling with recurring wars, the obligations of the playwright to oppose the wars, and creating public discourse that will suggest alternative policies that are not lethal.
The U of C has never shied away from controversial or difficult topics, as evidenced by the Center for Middle East Studies' enthusiasm to host Motti (an idea that seemed to frighten the faculties of some other Chicago-area universities). The talk will be followed by a Q&A, and we're looking forward to a vigorous discussion—otherwise, how would I know I was back on campus?
The talk will be held Tuesday, March 31, at 4 p.m. in Pick 001. All are welcome to attend.
Kyle Gorden, AB'00

March 26, 2009