May 2012

| Sun | Mon | Tue | Wed | Thu | Fri | Sat |
| --- | --- | --- | --- | --- | --- | --- |
| | | 1 | 2 | 3 | 4 | 5 |
| 6 | 7 | 8 | 9 | 10 | 11 | 12 |
| 13 | 14 | 15 | 16 | 17 | 18 | 19 |
| 20 | 21 | 22 | 23 | 24 | 25 | 26 |
| 27 | 28 | 29 | 30 | 31 | | |
---
CATEGORIES
---
RECENT ENTRIES
---
BLOG ROLL
Kalven calling
Almost from the moment they sat down, the three panelists at last Friday's discussion on free speech on campus waded into what law professor Geoffrey Stone, JD'71, called "uncomfortable" issues for universities navigating the murky waters of academic freedom: professors at anti-abortion rallies, students in T-shirts with provocative Biblical passages, Communist petitions, antiwar movements, civil-rights marches, the Holocaust, genocides, and questions about divestment—not only from Darfur but also apartheid South Africa and Nazi Germany.
"It seems that issues of free speech and free expression are always with us in the University, and the past couple of years are no exception to that," said social-sciences dean John Mark Hansen, who moderated the discussion among panelists Stone, Div School Christianity professor Margaret M. Mitchell, AM'82, PhD'89, and historian Ramon Gutierrez.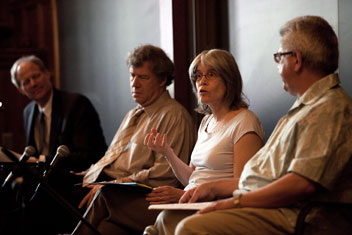 "There is always the question of how one maintains an environment where free speech and free expression can flourish," Hansen said, "in a community that deeply values openness and mutual respect as well."
Held in Social Sciences's first-floor auditorium, the 90-minute conversation revolved around the 1967 Kalven Report governing public expression at and by the University. As they walked in, audience members picked up copies of the three-page report, and Hansen posed a series of hypotheticals based on its rules. "Suppose a faculty member criticizes key tenets of Islam in class," Hansen said. "What if he also characterizes Muslim believers as ignorant and bloodthirsty?" Or, "Suppose an academic center sponsors an event at which all speakers assail the government of Turkey…for unwillingness to characterize the actions against the Armenians in 1915 as a genocide."
The panelists' frequent answer to these and other scenarios was, in a nutshell: it depends. But when in doubt, err on the side of freedom. "The University doesn't want to be in the business of drawing lines" about what constitutes appropriate discourse, Stone said. "Academic freedom should reach at least as far as the First Amendment." More than once Gutierrez pointed out that what might look like provocation or even harassment might in fact be "a teaching moment." Mitchell, who was hard-pressed to find any situation where she would sanction speech, urged listeners to remember the difference between "invective" and "argument."
Then Hansen opened the floor to audience questions. Listeners pushed for answers about handling professors' openly held political views, the strength or weakness of faculty governance, divestment from Darfur, and the University's historical actions in the world. Time and again, the conversation came back to the notion of neutrality. "Look," Stone said finally, "no person or institution can ever be wholly neutral." As a business, the University must make decisions, and decisions involve judgments and consequences. "I don't think the claim is that the University is absolutely neutral, any more than any of us are absolutely neutral. The claim of the Kalven Report is that the University should aspire to be as neutral as possible in taking positions itself—knowing, intentional positions—on matters of public moment. And that is an aspiration that I think is perfectly credible."
To see how the discussion unfolded, watch the video.
Lydialyle Gibson
From left, Mark Hansen, dean of the Division of Social Sciences, was moderator of a panel that included Geoffrey Stone, the Edward Levi distinguished service professor in the Law School and the College; Margaret M. Mitchell, professor in the Divinity School; and Ramón Gutiérrez, the Preston & Sterling Morton distinguished service professor in history and the College.
Photo by Jason Smith.

May 21, 2009