May 2012

| Sun | Mon | Tue | Wed | Thu | Fri | Sat |
| --- | --- | --- | --- | --- | --- | --- |
| | | 1 | 2 | 3 | 4 | 5 |
| 6 | 7 | 8 | 9 | 10 | 11 | 12 |
| 13 | 14 | 15 | 16 | 17 | 18 | 19 |
| 20 | 21 | 22 | 23 | 24 | 25 | 26 |
| 27 | 28 | 29 | 30 | 31 | | |
---
CATEGORIES
---
RECENT ENTRIES
---
BLOG ROLL
Spidey meets who?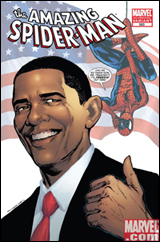 Is it just me, or does the Obama character in Spider-Man #583, "Spidey Meets the President!" look absolutely nothing like our commander in chief?
The Obama issue got a lot of attention when it came out last year, from the New York Times to the Colbert Report. (In the episode "Obama Spider-Man Comic Bribe," Stephen Colbert left a signed copy on his bookshelf to try to entice Obama, an admitted Spider-Man collector, to appear on his show.) But no one pointed out what seemed to me the obvious. The Obama character in the comic—and there's also an Obama imposter who is revealed as shape-shifting villain the Chameleon—looks like... well, I don't even know. So I turned to Dan Raeburn to enlighten me.
Raeburn, a lecturer in creative writing at Chicago, is the author of Chris Ware (Yale University Press, 2004) and several other books of comics criticism. (Yes, there is such a thing as comics criticism.) In Raeburn's professional opinion, "the cover is somewhat of a likeness. That's Obama if he packed on a few pounds." Cover artist Phil Jimenez, Raeburb says, "at least knows how to do a photo swipe"—a direct copy of an existing photograph. "But the interior art is by a guy named Todd Nauck, who can't draw at all."
A crucial plot point is that no one can tell the two Obamas apart. That makes it hard to understand why both Obamas not only don't look like Obama, but also "they don't even look like each other," Raeburn says. "One looks like O. J. Simpson on steroids, while the other looks like Grace Jones in man-drag. From panel to panel, the same Obama doesn't even look consistent, i.e., like his own self. He looks different every time, depending on what angle he's drawn from. This is the telltale sign of total artistic incompetence."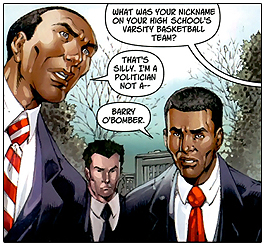 Perhaps James Nurss would have a kinder, gentler opinion. Nurss, the intrepid owner of Hyde Park's only comic shop, First Aid Comics, says the Obama issue functioned as his own personal economic-stimulus package. It's now in its fifth printing. Nurss figures he's sold more than 1,000 copies out of his tiny, second-floor shop.
"You'd have to ask someone on the Marvel creative team, because they have the talent and ability to make him look exactly like Obama," he says. "So this was obviously a choice. But Marvel continues to mystify me in their choices. I wish I could be more supportive of some of their decisions."
Another odd decision was to tack the Obama story on as an afterthought to a regular Spider-Man issue. "It's not even related to the main story," says Nurss. "It's a five-page, bonus backup feature." As for the story itself, "I was disappointed. I mean, it's cute. It reminds me of a classic '70s story—a really simple, dumb plot."
For a final assessment, I decided to check in with Hamza Walker, AB'88, associate curator at the Renaissance Society on the fourth floor of Cobb Hall. Walker agreed that no one in the comic looked like Obama, "but I can't blame that on the older epithet of all black people looking alike, because all of the white characters also look alike."
Walker stares at the drawings. "Spider-Man's musculature is so deformed," he says. "It's so hyper-stylized. I'm almost focused more on Spider-Man's ridiculous, overwrought body than I am on Obama. And then the evil twin turns into a hairless albino called the Chameleon, this raceless entity."
But is it degrading for the leader of the free world to appear in a comic book, fist-bumping Spider-Man? Is Obama somehow more subject to kitschification—the comic books, the dancing dolls, the Chia Pets—because he's black? "These things aren't being produced by a neoconservative group or as parodies," Walker says. "They're loving. He would be the first to laugh about the Barack industry. It just feels light-hearted, and we haven't been light-hearted in eight years.
"With Obama being elected, there's genuine restoration of anything being possible," he says. "It's so historically significant that he deserves to have a Chia Pet."
Walker's description of the Chameleon as a "raceless entity" stuck with me. So I call Nurss back with one last question. Why the Chameleon, when there are so many villains in the Spider-Man universe? Does he somehow mirror Obama's own shape-shifting nature, his ability to appeal to all different kinds of voters?
"Hmm," says Nurss. "I like that. It lends more credence to what Marvel did." Nurss, like Obama, is a friendly, affable guy, and I could tell he didn't want to say what he was thinking. So I ask him if I'm overreading. He laughs. "I suspect so."
Carrie Golus, AB'91, AM'93
June 19, 2009