May 2012

| Sun | Mon | Tue | Wed | Thu | Fri | Sat |
| --- | --- | --- | --- | --- | --- | --- |
| | | 1 | 2 | 3 | 4 | 5 |
| 6 | 7 | 8 | 9 | 10 | 11 | 12 |
| 13 | 14 | 15 | 16 | 17 | 18 | 19 |
| 20 | 21 | 22 | 23 | 24 | 25 | 26 |
| 27 | 28 | 29 | 30 | 31 | | |
---
CATEGORIES
---
RECENT ENTRIES
---
BLOG ROLL
A marathon, not a sprint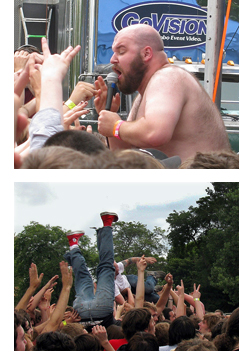 A weekend at the Pitchfork Music Festival
Fewer than three hours into the Pitchfork Music Festival this past weekend in Union Park, my friend Josh Nalven, '10, already looked as if he had jumped rope in a sauna, fully clothed.
He had pushed through the crowd to the front of the main stage, sacrificing all regard for personal space to brave the near-riotous pit of devoted fans of the hardcore band Fucked Up. Watching from a safer distance, I could see the band's hulking frontman, Damian Abraham, dive shirtless into this pit. Let's just say Abraham has quite a belly and knows how to throw it around. Glad I'm not down there, I thought to myself.
"I was right there!" Josh later told the rest of our group. "Seriously close to the underarm region, dude." He ran his fingers through a sweaty head of curls. "Amazing at the time, but now, perhaps not the best idea."
One thing was clear—Josh needed to cool down. It was as good a reason as any to wander through the food tents.
With 40 bands packed onto three stages over the course of three days, it might not seem like there would be a lot of time to peruse the festival's other offerings. But if, for example, you're not interested in seeing Blitzen Trapper or Killer Whales during the 3 p.m. time slot, you might find yourself with an hour to kill. I haven't heard of them either.
Although hardly a bargain, Pitchfork has a reputation for having some of the tastiest and fairest priced (i.e., only a slight rip-off) food selections. And whether you were a skinny indie vegan or a skinny indie carnivore, 15 Chicago vendors satisfied the mysteriously high metabolism of a slim and gangly gang of music lovers. I splurged on a chicken sausage cooked with apple and gouda cheese and an iced coffee horchata, with the damage coming out to $8.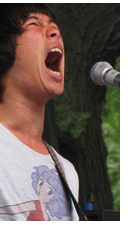 There was much more to see, like the tent full of vinyl records, the arts and crafts fair, and the station where you could set a world record. The people-watching makes for a good time too. Wait—a "world-record station"?
Antics ensued as people ventured to set the fastest time for shaving one's own mustache, fastest 52-card pick-up, or fastest kazoo performance of "Zip-a-Dee-Doo-Dah." On Saturday, 48 people set the record for largest group of people to sing "Saturday in the Park" by the band Chicago. A free pair of shoes went to anyone with a record still standing by the end of the day.
Oh, I almost forgot—the music was great! At least, all that I was able to hear.
Toward the end of the Saturday lineup, I sat down to rest while the rapper Doom performed nearby. I felt my eyes getting heavy, and despite the thundering bass and the constant buzz of chatter around me, I did the impossible: power-napped through a performance.
Luke Fiedler, '10
Fucked Up's Damian Abraham (top) while fans crowdsurf; Ponytail's Ken Seeno.
Photography by silverfuture (CC BY-NC-SA 2.0). View silverfuture's Pitchfork Music Festival set on Flickr.
July 23, 2009