May 2012

| Sun | Mon | Tue | Wed | Thu | Fri | Sat |
| --- | --- | --- | --- | --- | --- | --- |
| | | 1 | 2 | 3 | 4 | 5 |
| 6 | 7 | 8 | 9 | 10 | 11 | 12 |
| 13 | 14 | 15 | 16 | 17 | 18 | 19 |
| 20 | 21 | 22 | 23 | 24 | 25 | 26 |
| 27 | 28 | 29 | 30 | 31 | | |
---
CATEGORIES
---
RECENT ENTRIES
---
BLOG ROLL
Down and dirty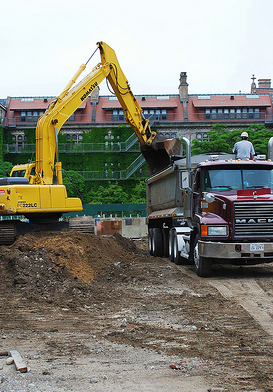 Giant backhoes are digging. Dump trucks are hauling away dirt. And if you peer through the chain-link fence and green scrim at the corner of 57th Street and Ellis Avenue, you'll glimpse the sweeping oval foundation of the Joe and Rika Mansueto Library, scheduled for completion in early 2011.
Right now it's just a big hole in the ground, but eventually the glass-domed library will hold 3.5 million volumes—and establish Chicago as the only top U.S. research university to house its entire library collection on campus. Last week UChiBLOGo's Elizabeth Station toured the site with Michael Natarus, senior project manager, who gave us the lowdown on construction.
So how much dirt has to come out of this hole?
53,000 cubic yards of material, approximately. It's anywhere between 4,000 and 5,000 truckloads, if you take an average of 10 yards per truck.
Where will the 53,000 cubic yards of earth end up?
All over the place. Most of the dumps are located on the South Side, within a half-hour radius of the University. Some of it they recycle—some of it is sand, which I'm sure they can use in other places.
How long will the excavation phase last?
We're scheduled to be completed by October 1. We dig out one level, then we do the tie-backs around the perimeter to support the wall, and then we dig the next level and do the tie-backs. There are four levels and about 310 tie-backs total. That's what is taking so long.
Are there any environmental issues associated with digging around the place where scientists did the first self-sustaining nuclear chain reaction?
The Phase 1 Environmental Study determined that the site is clean, and we also did soil borings prior to the project start-up, which determined that there is no contamination.
Have you found any archeological treasures?
No, nothing—no Indian burial sites or anything like that. But this used to be the site of Stagg Field, and we did find what appears to be an underground locker room, something with stairs leading up to the top, that was buried.
How does this project compare to others you've managed?
The biggest challenge is that it's a very unique structure. An underground storage facility for books with a glass dome on top—there's nothing like this in the world, to my knowledge.
Are you looking forward to that final phase?
Absolutely; it's going to be the cool part. There's so much progress that's happening underground. When you walk by you say, 'Jeez, they're not doing anything.' But there's actually quite a bit of activity.
---
RECOMMENDED LINKS
July 14, 2009