May 2012

| Sun | Mon | Tue | Wed | Thu | Fri | Sat |
| --- | --- | --- | --- | --- | --- | --- |
| | | 1 | 2 | 3 | 4 | 5 |
| 6 | 7 | 8 | 9 | 10 | 11 | 12 |
| 13 | 14 | 15 | 16 | 17 | 18 | 19 |
| 20 | 21 | 22 | 23 | 24 | 25 | 26 |
| 27 | 28 | 29 | 30 | 31 | | |
---
CATEGORIES
---
RECENT ENTRIES
---
BLOG ROLL
Romancing the story
Gwyn Cready, AB'83, MBA'86, writes time-travel romances. Her latest, Seducing Mr. Darcy, is nominated for a RITA Award, the most prestigious accolade a romance novel can win. The awards ceremony is Saturday in Washington.
How do you think your education at Chicago has helped you with your writing career?
Chicago taught me to believe I could do anything I set my mind to. And Amy Kass, AB'62, taught me the magic of a really good story.
How did you first get into writing romance novels?
I came to romance by way of romantic-comedy movies. Good, bad, or awful, I've seen them all—and dragged my beleaguered husband as well. But I became a writer to honor the memory of my sister, who died unexpectedly at 31. Claire was a hippie poet/photographer. I was a buttoned-up marketing executive. We couldn't have been more different. I'm sure Claire finds my transformation both remarkable and entertaining.
What do you think is the most romantic Great Book?
Hmm. Chicago's idea of a "Great Book" and mine are undoubtedly different. However, it would be hard to beat Pride and Prejudice on any list.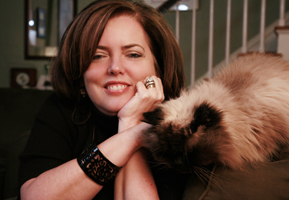 What misconception about romance novels do you think is most unfair?
Implicit in romances is the assertion that women's physical and emotional desires are important. Subversive? You bet. Hallelujah. You should also know that romances make up the largest segment of fiction. Thirty-three cents of every dollar spent on fiction is spent on romance. Among Americans who read, one in four read romance (and 10 percent of romance readers are men.) In the first quarter of 2009, when overall book sales declined 4 percent, booksellers report romance sales were up, and sales at Harlequin Enterprises were up 13.5 percent.
Is there anything autobiographical in your books?
How can there not be? When Colin Firth finally writes his autobiography, all will be revealed.
Jake Grubman, '11
Book cover art and portrait courtesy Gwyn Cready.
July 15, 2009