May 2012

| Sun | Mon | Tue | Wed | Thu | Fri | Sat |
| --- | --- | --- | --- | --- | --- | --- |
| | | 1 | 2 | 3 | 4 | 5 |
| 6 | 7 | 8 | 9 | 10 | 11 | 12 |
| 13 | 14 | 15 | 16 | 17 | 18 | 19 |
| 20 | 21 | 22 | 23 | 24 | 25 | 26 |
| 27 | 28 | 29 | 30 | 31 | | |
---
CATEGORIES
---
RECENT ENTRIES
---
BLOG ROLL
L-E-T-S-G-O, Let's Go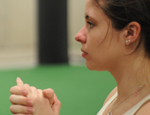 Saturday morning on campus in late May before finals, and one of the few things stirring was the U of C cheer team. After gathering in Henry Crown Field House, the cheerleaders began an hours-long practice with a series of stretches, rolling out their ankles, touching their toes, sliding into splits.
Since cheerleading season ended in February, squad leaders Brittany Gordon and Denise Salinas have organized small-group workouts and more formal practices.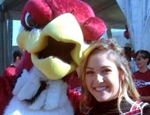 This particular practice also served as an evaluation and introduction for two new members. While covering the cheer team for the Core last winter, I'd marveled at the squad's hard work. This day's practice was no exception—the team moved from stretches to cheers to dance routines to stunts, stopping only for a few short water breaks.
After stretches, Gordon arranged the team in two parallel lines. "Now we're going to go over basic motions," she said. With her back to the group, she demonstrated a series of arm positions while Salinas called them out: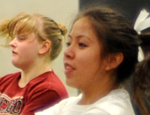 "Low beam!" "High beam!" "T!" "K!" As the squad set the motions to a cheer—L-E-T-S-G-O, Come on Maroons, Let's Go!—Gordon turned to watch and reminded her teammates to keep smiling: "During a game you have to be happy and continue cheering, no matter what happens. Practice how you perform."
The team finished the day with stunt practice, starting with halfs—when a flyer is lifted to shoulder level and stands in a straddled position—and graduating to liberties—when a flyer balances on one leg supported by several bases. Falls were frequent, but so was encouragement. "I can't do it," said one flyer after several failed attempts. "Yes, you can," her teammates replied. "Stick it!"
Katherine Muhlenkamp
---
RELATED READING
July 14, 2009