May 2012

| Sun | Mon | Tue | Wed | Thu | Fri | Sat |
| --- | --- | --- | --- | --- | --- | --- |
| | | 1 | 2 | 3 | 4 | 5 |
| 6 | 7 | 8 | 9 | 10 | 11 | 12 |
| 13 | 14 | 15 | 16 | 17 | 18 | 19 |
| 20 | 21 | 22 | 23 | 24 | 25 | 26 |
| 27 | 28 | 29 | 30 | 31 | | |
---
CATEGORIES
---
RECENT ENTRIES
---
BLOG ROLL
Living the sweet, sweet dream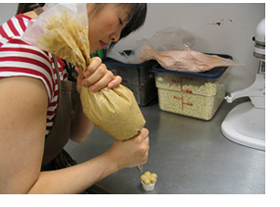 Admit it. You've fantasized about escaping your cubicle or late-night cram sessions, fleeing to Paris, and enrolling in one of the best culinary schools in the world to become a master patissier. C'est très romantique. Now meet your newest object of envy: Teresa Ging, AB'00, who in 2006 did just that. After earning a U of C degree in economics and statistics and spending six years in the fast-paced world of Chicago finance, she traded bonds for brioche and entered the patisserie program at Paris's famed Le Cordon Bleu. Today her bakery, Sugar Bliss cake boutique, helps to satisfy the Loop's sweet tooth with its signature cupcakes and—prepare yourselves—$1 frosting shots.
Pre–Sugar Bliss, Ging's own sweet tooth was far from fulfilled by the Loop's offerings. "I live in the Loop, and I used to work in the Loop," she says. "And there was nowhere to buy cake." So the seed was sown. After she moved back to Chicago in January 2007, she realized the "cupcake trend" might be lucrative, and she started testing recipes. After almost two years of proposing, planning, and building—as well as launching her own cupcake catering business in the meantime—Ging entered the retail sector in January: "It takes forever to open a store, with building it out, the permit process, everything." In the next few weeks she will finally get an awning.
Now with a high-traffic location and 11 employees, she has a good system going. Pointing to a schedule with five everyday flavors and five that change daily, she tells us her daily routine. Prescoop the batter, made from all-natural ingredients, the day before; arrive at 6 a.m. to bake everything in the double-deck oven; whip up frosting to get the right texture; pipe the frosting on the cakes in Ging's trademark flower blossom design; and place the cakes in the display cases for serving. And, since she keeps the day-to-day books, her finance background comes in handy: "I enjoy crunching numbers." In just six months, she says, the store has seen some 30,000 customers. Looks like Ging wasn't the only one on the hunt for cake downtown.
Ging says that her favorite cupcakes change—and with such a decadent menu, who can blame her?—but recommends chocolate coconut, chocolate hazelnut, chocolate peanut butter, and lemon coconut. These intrepid reporters sampled the chocolate milk chocolate and the black-and-white cupcakes, two of the bakery's most popular combos, as well as cream-cheese and cappuccino frosting shots. Everything we tasted made our Monday afternoon just a little bit sweeter. Now, whose birthday can we use as an excuse to order some for the office?
Elizabeth Chan and Ruth E. Kott, AM'07
Sugar Bliss is located at 115 North Wabash Street in Chicago. The bakery is open every day and delivers to many citywide locations Monday through Friday.
July 6, 2009