May 2012

| Sun | Mon | Tue | Wed | Thu | Fri | Sat |
| --- | --- | --- | --- | --- | --- | --- |
| | | 1 | 2 | 3 | 4 | 5 |
| 6 | 7 | 8 | 9 | 10 | 11 | 12 |
| 13 | 14 | 15 | 16 | 17 | 18 | 19 |
| 20 | 21 | 22 | 23 | 24 | 25 | 26 |
| 27 | 28 | 29 | 30 | 31 | | |
---
CATEGORIES
---
RECENT ENTRIES
---
BLOG ROLL
Making a home with eBay
If I've learned one thing over the past four or five weeks, it's that keeping up an apartment is a lot of work. I moved off campus at the end of finals week in June, and more than month later, I finally have a bed. No more air mattress for me.
But I'm still short some items. Enter eBay. A quick perusal of the world's digital flea market, and I'm well on my way to a complete apartment, school spirit included. Here's a quick list of some of the best U of C–related items for sale on eBay, must-haves for any true Maroon.
---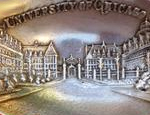 Silver Spoon
The empty drawers in my kitchen sent me looking for the appropriate collegiate silverware. No spoon? No problem, says the "University of Chicago" search on eBay.
If I ever feel like I'm too far from Hull Gate, this sterling silver spoon features an embossed representation so that I can experience campus while eating my Honey Bunches of Oats.
If you look closely, you'll see me lamenting my bio final at the Zoology Building on the right.
---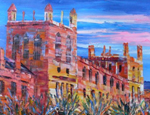 Blue Sky Painting
In the dorm I was fine with my "Rock of Love" and "Babar" posters. Now that I'm independent, I feel like my apartment needs more sophistication. Something like "Blue Sky" by Chinese artist K. Sing.
This bold view from the Midway is the perfect addition to any Chicago student's living room, bedroom, or study. If a Chicago student buys this painting, it'll also be just about the only blue sky he sees from October to April.
---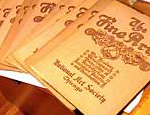 Fine Arts Books
I also decided to look for some fresh material to add to my bookcase. Thankfully, eBay has the National Art Society's guide to the fine arts from 1907, edited by the University of Chicago's own Edmund Buckley, professor of comparative religion.
A little pricey for a student, but hey, free shipping!
---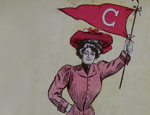 Girl Postcard
With all of this work to do around the apartment, I haven't had time to write my parents in a while (actually, ever, because they live an hour away and both parties own telephones).
But the responsible student makes an effort to keep in touch, so I was thankful that eBay has a veritable cornucopia of postcards. This was my favorite find because of the woman's daring fashion and also the catchy call for school spirit at the bottom.
---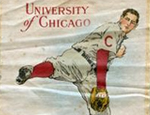 Baseball Silk
I don't know what to say about this item, because its uses are endless:
Dust cloth.
Bandana.
Wall decoration.
Reusable napkin.
Disposable napkin.
…And a great gift idea with the holidays just five months away.
---
Jake Grubman, '11
July 20, 2009