May 2012

| Sun | Mon | Tue | Wed | Thu | Fri | Sat |
| --- | --- | --- | --- | --- | --- | --- |
| | | 1 | 2 | 3 | 4 | 5 |
| 6 | 7 | 8 | 9 | 10 | 11 | 12 |
| 13 | 14 | 15 | 16 | 17 | 18 | 19 |
| 20 | 21 | 22 | 23 | 24 | 25 | 26 |
| 27 | 28 | 29 | 30 | 31 | | |
---
CATEGORIES
---
RECENT ENTRIES
---
BLOG ROLL
Strolling through handsome Hyde Park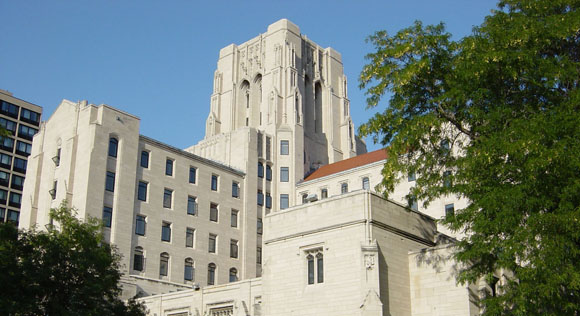 We all know about Robie House. We've all seen the Museum of Science and Industry, if only while zooming past it on Lake Shore Drive. But after meandering through the streets of Hyde Park with the Chicago Architecture Foundation this past weekend, I couldn't help but ask myself: who knew Hyde Park had so much hidden architectural history?
About 20 people gathered in front of Rockefeller Chapel on a glorious Sunday afternoon to take part in a neighborhood tour and unearth the stories behind buildings I'd walked by hundreds of times but never stopped to appreciate. Embarrassing, I know. Docent Dinah Wayne led a perfectly paced tour, never stretching the group out for more than a five-minute walk between stops. Wayne touched on Hyde Park's role during the 1893 World's Columbian Exposition—the Midway served as the fair's entertainment center, and the MSI was originally known as the Palace of Fine Arts.
She also provided factoids that an average resident might not know. The statue at the east end of the Midway, for instance, is of Thomas Masaryk, the founder and first president of Czechoslovakia. The placement isn't random: Masaryk visited the University in 1902 and 1907, and taught a course in Czech history during the summer of 1902.
Some homes built around the turn of the century, when Frank Lloyd Wright designed Robie House, emphasized horizontality, while those made a few decades later, during the height of the Art Deco movement, emphasized verticality. The Robie House had longer, slimmer Roman bricks to conjure up images of the American prairie. Art Deco-style buildings, like International House, displayed unbroken vertical lines to make it seem taller and more impressive.
The tour shed light on a handful of beautiful homes that I had never seen before, but we didn't venture out of the neighborhood's southeast corner until the very end. We made our way to the edge of the quadrangles, only to head back south toward Chicago Booth (did you know that 40 percent of the building is underground?). I was curious about other blocks that we didn't cover. And the U of C was underrepresented: while we briefly touched on I-House, the Lab Schools, Palevsky Residential Commons, and Chicago Booth, we never went west of University Avenue, and never farther north of 56th Street. One man in an Arizona cap asked why we weren't seeing more of the campus. Wayne sighed and shrugged her shoulders. "It's its own two-hour tour!"
Some were disappointed to learn that President Obama's house was not featured during the two-hour session. He actually lives right across the Hyde Park border in Kenwood, which—you guessed it—has its own tour.
Luke Fiedler, '10
Photo by Willy Feng, AB'04
August 26, 2009