May 2012

| Sun | Mon | Tue | Wed | Thu | Fri | Sat |
| --- | --- | --- | --- | --- | --- | --- |
| | | 1 | 2 | 3 | 4 | 5 |
| 6 | 7 | 8 | 9 | 10 | 11 | 12 |
| 13 | 14 | 15 | 16 | 17 | 18 | 19 |
| 20 | 21 | 22 | 23 | 24 | 25 | 26 |
| 27 | 28 | 29 | 30 | 31 | | |
---
CATEGORIES
---
RECENT ENTRIES
---
BLOG ROLL
Chicago's DC debut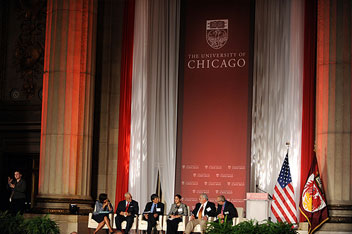 Good timing may be an understatement. When the University planned a September 10 event in Washington focusing on health care and education, administrators had no idea it would be the same week President Obama would give two hot-button speeches, one to kids about staying in school, the other to Congress about passing health-care reform.
Coming the day after Obama's televised health-care address, Chicago's program, called Chicago Contributes, opened with President Robert J. Zimmer introducing keynote speaker Kathleen Sebelius, secretary of health and human services. Sebelius asked the hundreds of University alumni, faculty, and other friends gathered in the soaring, columned Andrew W. Mellon Auditorium to participate "not only in the legislative debate" but also to use their "intellects" and experience as health-care professionals, educators, policy makers, or otherwise to share smart ideas.
After Sebelius spoke, Michele Norris, host of NPR's All Things Considered, continued the conversation, moderating a panel of five health-care experts including Eric Whitaker, MD'93, an executive vice president at the University of Chicago Medical Center. The University's Urban Health Initiative, which Whitaker leads, takes a "public-health focus," he said, partnering with nearby health-care facilities to get South Side residents the care they need as well as sponsoring local farmers markets to provide fresh fruits and vegetables in urban "food deserts," where few stores offer healthy options.
Panelist Gerard Clancy, president of the University of Oklahoma, Tulsa, and dean of its School of Community Medicine, noted that more insured citizens will require more physicians and nurses to care for them. Kavita Patel, director of policy for the White House Office of Public Engagement and Intergovernmental Affairs, added that to attract more students to medicine, the country has to forgive more loans and also "reform our perverse payment system," currently based on medical tests administered, to "a community-based system, so doctors take care of people, not administrative details."
"The incentives now are all wrong," agreed Patrick Soon-Shiong, head of Abraxis Health and executive director of the UCLA Wireless Health Institute. "The incentive is to do more care, not better care." Whitaker noted that Chicago's Urban Health Initiative works not only with the Medical Center and Pritzker School of Medicine but also with the schools of public policy, social service administration, and business to approach public health. "We're the fourth-leading provider of academic medicine," he said. If Chicago teaches its students to "understand the importance of community medicine," then those future teachers "will go into other academic centers and spread that knowledge."
Later in the afternoon Secretary of Education Arne Duncan, U-High'82—like Whitaker, a basketball buddy of Obama's—gave the day's second keynote. "Behind higher standards you have to have great data systems that tell you the truth," Duncan said. He's tapped John Q. Easton, PhD'81, former executive director of the University-based Consortium on Chicago School Research, to direct the Department of Education's Institute of Education Sciences. Easton told the crowd his goal is not only to publish reports and disseminate data but also to help teachers and administrators "understand how to use it."
Ray Suarez, AM'92, senior correspondent for PBS's NewsHour, led a panel discussion on higher education's role in improving urban schools. Charles Payne, the SSA's Frank P. Hixon professor, noted that many universities "that have tried to play a role have quickly found they didn't know [as much as] they thought they did." Timothy Knowles, who heads Chicago's Urban Education Institute, referred to Lab Schools founder John Dewey, who "taught the world that children learn by doing." Similarly, "if universities are to stay vital in education and K–12 improvement, we have to learn by doing." For the UEI, that means training teachers and running four charter schools on Chicago's South Side.
After the panels Washington lawyer Elliot Feldman, AB'69, noted that the University's new ties to the federal government give the institution a distinct chance to participate in these national debates. "The University will never have another opportunity like this," he said. "Its ties to the president, and his whole family, are so important. It's a unique opportunity for the University to make itself felt in the world."
That evening alumni and other guests returned to the auditorium for a jazz reception, where Obama senior adviser David Axelrod, AB'76, answered questions about policy and politics from the crowd, and told how he almost didn't graduate with his class—because he hadn't taken the dreaded swim test. A few hours before the deadline, he completed the five laps. Once again, good timing.
Amy Braverman Puma
The Mellon Auditorium in Washington, DC was decked out in maroon and gold for Thursday's "Chicago Contributes" event; Arne Duncan, US Secretary of Education, presents the keynote speech; trustees David Booth (right) and Mary Lou Gorno (to his right) listen to Thursday's health care panel.
Photography by Dan Dry.
September 18, 2009