May 2012

| Sun | Mon | Tue | Wed | Thu | Fri | Sat |
| --- | --- | --- | --- | --- | --- | --- |
| | | 1 | 2 | 3 | 4 | 5 |
| 6 | 7 | 8 | 9 | 10 | 11 | 12 |
| 13 | 14 | 15 | 16 | 17 | 18 | 19 |
| 20 | 21 | 22 | 23 | 24 | 25 | 26 |
| 27 | 28 | 29 | 30 | 31 | | |
---
CATEGORIES
---
RECENT ENTRIES
---
BLOG ROLL
Through the Net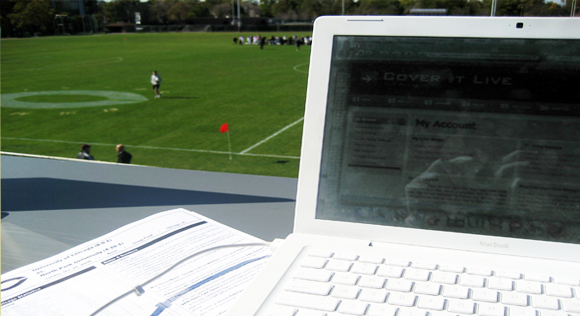 It's November 15, 2008, and Sean Ahmed, AB'06, and Emerald Gao, AB'08, are delirious.
The Maroon women's soccer squad has just won a shootout against Calvin College in the second round of the NCAA D-III tournament. The broadcast team spent the whole game trying to be objective, but for a few moments unbiased analysis gives way to old-fashioned homerism.
"Emerald and I just began yelling and jumping up and down," Ahmed said. "As objectively as we try to take things, when it came down to it and there was this incredible game we had just watched, and our team ultimately went through to the Sweet Sixteen, you couldn't help but just be thrilled and really let out the fan in you." He and Gao provide the voices of Chicago soccer as part of Go Maroons, a student-run group of announcers for the University's soccer, basketball, baseball, and softball teams. Starting with last Tuesday's men's soccer game, Go Maroons is back for another year in the booth.
As the Maroon's sports editor, Ahmed and two writers began Go Maroons in fall 2005, when production consisted of passing a lapel microphone back and forth in the athletics department break room, which overlooks Stagg Field. Mark Liskevych, AB'07, and Omar al-Ubaydli, AM'03, PhD'07, who covered international soccer for the newspaper, suggested broadcasting over the Internet to reach as many parents and other listeners as possible. With al-Ubaydli calling the play-by-play in his English accent and Liskevych—who now works for U.S. Soccer—on color commentary, Go Maroons quickly picked up, with parents listening from across the country.
Listen to a broadcast sample: "Chicago wins it in overtime against NYU" (38 seconds)
That year both soccer teams qualified for the postseason, and Chicago hosted the first four rounds of the women's tournament. It was a perfect chance for the broadcasters, who had gotten comfortable with radio-style soccer commentary and open-source audio streaming by the end of the season.
Since then Go Maroons' improved technology streams the games to more listeners. Using a cell phone connected to Skype, they can broadcast even without an Internet connection on site. Beginning last year, Jordan Holliday, '11, and I have also blogged live during games when Internet is available, with readers posting questions and comments on the Maroon's sports blog, MaroonCity.com.
There will always be rough patches with production, Ahmed says, like the time in 2006 when a deejay in Poland hacked the server and broadcast music on top of the broadcast. Unexpected dance tunes aside, Ahmed, now working for the Chicago Cubs, also calls Maroons games on the side. "We love doing it. There's no other time we get to do it, we love the program as alums, and we've been treated to great, great soccer seasons in our time here." Thanks to their work, anyone who can't make the game can still share in the delirium.
Jake Grubman, '11
September 4, 2009