May 2012

| Sun | Mon | Tue | Wed | Thu | Fri | Sat |
| --- | --- | --- | --- | --- | --- | --- |
| | | 1 | 2 | 3 | 4 | 5 |
| 6 | 7 | 8 | 9 | 10 | 11 | 12 |
| 13 | 14 | 15 | 16 | 17 | 18 | 19 |
| 20 | 21 | 22 | 23 | 24 | 25 | 26 |
| 27 | 28 | 29 | 30 | 31 | | |
---
CATEGORIES
---
RECENT ENTRIES
---
BLOG ROLL
To conserve and protect
Trained in the art and science of preservation, Ann Lindsey became the University Library's head of conservation this past January. In prior positions at the Huntington (San Marino, California) and University of California, Berkeley, libraries, she gained experience in preservation issues related to library renovation and construction. That background suits her job at Chicago, where she will coordinate conservation efforts at the Regenstein until moving to new quarters in the Joe and Rika Mansueto Library in 2011.
Lindsey spends about half her time with sleeves rolled up, repairing fragile books from the Special Collections Research Center. I stopped by her workspace last week, and before our interview she quietly sewed together the pages of a tattered 18th-century English play. Outside we could hear the beep-beep of construction vehicles working on her future home, which will include a 6,000-square-foot preservation department.
---
How did you first become interested in book preservation?
I grew up in Austin, Texas, and there is a program there (at UT-Austin) for preservation and conservation. When I was an undergraduate I knew people in the program. Years later I ended up back in Austin and thought, 'I really liked that stuff; I'm going to look into it.' I plucked up my courage, went and visited, and totally fell in love. I said, 'Whatever it takes for me to get into this program, I will do it.'
What was so intriguing?
Working with your hands, the variety of materials. I love the history of technology and book preservation is a microcosm of that—of paper-making, ink and printing, pigments, cloth, and dyes. It appeals to me because it is an art and a craft, and at the same time there's a lot of science that goes into it, a lot of chemistry.
Are you also interested in the content of the books?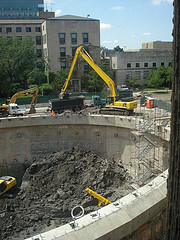 It's a conservation joke that you know you've become a conservator when you get shocked the day somebody points out that there are words in the books. But every aspect has some interest for me—including the words (laughter).
What will be exciting about the new conservation lab in the Mansueto Library?
For one thing, we'll have more space. We are crammed in here now. We will have new equipment—a paper conservation sink, a drying rack, a suction table, a commercial freezer, and a fume hood—as well as increased security and a place to photo-document.
When the new library is finished, you'll be responsible for conserving the country's largest on-campus university library collection. Does this keep you awake at night?
No—I made my peace a long time ago with the fact that there's more work than I can ever do, no matter where I am. The people who designed this building put a lot into planning it, and I think it's going to be a really good environment for books, meaning the temperature, the humidity, and the things in place to deal with floods or water or fire.
How do you respond to people who say that the future of libraries is digital, and that it's foolish to invest in the physical preservation of books?
We are moving toward digital. If we were solely relying on conservation of the object here at Chicago, I would say, yes, we are definitely swimming against the stream; but we do have such a robust digitization project. What I would say about what we do is that there are times when you need to see the object, regardless of whether or not it's online and how detailed you can get. Scholars want to see the object. So I think we will always be an arm of the library system, in addition to reformatting, digitization, binding, and Special Collections.
Elizabeth Station
Portrait of Ann Lindsey by Michael Kenny; construction site photo by Cheryl Rusnak.
---
RELATED LINKS:

RELATED READING:

September 8, 2009