May 2012

| Sun | Mon | Tue | Wed | Thu | Fri | Sat |
| --- | --- | --- | --- | --- | --- | --- |
| | | 1 | 2 | 3 | 4 | 5 |
| 6 | 7 | 8 | 9 | 10 | 11 | 12 |
| 13 | 14 | 15 | 16 | 17 | 18 | 19 |
| 20 | 21 | 22 | 23 | 24 | 25 | 26 |
| 27 | 28 | 29 | 30 | 31 | | |
---
CATEGORIES
---
RECENT ENTRIES
---
BLOG ROLL
Architectural digest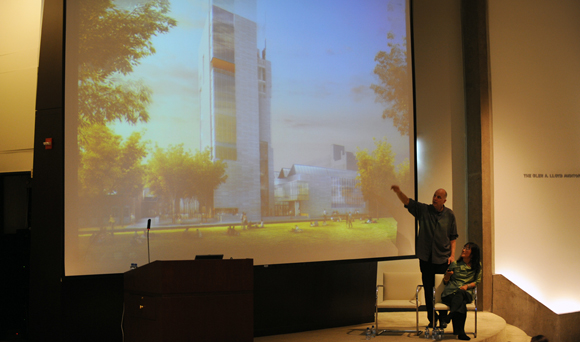 Unveiling their design for the Reva and David Logan Center for Creative and Performing Arts before an SRO crowd last Tuesday night, architects Tod Williams and Billie Tsien showed off a building that will act as both University anchor and portal. Located at 60th Street and Ingleside Avenue, the $114 million building has a planned May 2010 groundbreaking and 2012 opening.
Along with practice rooms, classrooms, studios, and a shop shared by set designers and artists, the Logan Center will have lots of public spaces: three theaters, a gallery, a glass-walled penthouse performance space, and a ground-level cafe. Designed to become a South campus landmark, the building "will let people know that the University of Chicago has a deep commitment to the arts of the present," said Dan Logan, whose family committed a $35 million gift to support the center.
Students, faculty, alumni, and friends who couldn't make it to the Law School auditorium for the unveiling could watch via live Webcast as the architects walked through slides of the building and answered questions about their design. Here are a few architectural details:
What the principals wore
Tod's loose gray shirt resembled an artist's smock; Billie's blouse was tailored and green. Within minutes, they'd both pushed up their sleeves.
Conversational style
She stayed seated, advanced the slides, and wielded the laser-pointer. He jumped up, walked around, built boxes with his hands. Both got their points across.
Their marching orders
As told to the audience by the evening's emcee, Deputy Provost for the Arts Larry Norman: "First and foremost, an integrative arts center.... It had to be a very porous building. They were told, 'It's OK if the building has a front but it can't have a back.' You're going to see a building with a lot of entryways."
Their inspirations (global)

The skylit tower in New York City's Carnegie Hall where they had their home and studio (like the other artists who lived in the tower, they've been evicted to make room for programmatic space).
The American Folk Art Museum, which they designed and which was named one of 2001's best buildings. Wedged into a narrow slice of Manhattan real estate, it's also a tower, "with openings looking down from one place to the next," they explained, "where you know where you are and are curious to where a friend might be."
Their inspirations (local)

The Midwest. Tod: "We saw the project as a silo in a field."
The campus. The Indiana limestone of Chicago's English Gothic quads meets Frank Lloyd Wright's Robie House brickwork in the limestone bars (4 feet x 4 inches x 4 inches) that will form the building's facade.
LEEDing question: How green is the building?
The center will achieve a LEED (Leadership in Energy and Environmental Design) rating. Contributing to the green factor:
Local materials
North-facing skylights (of double-glazed glass) reduce electricity consumption
Extensive green roofs
Two elevators (instead of the standard three) in the 11-story tower require less electricity--and promote taking the stairs
And the night's towering question
Is the center's tower taller than Rockefeller Chapel?
University Architect Steven Wisenthal gave the numbers: At its highest point, Rockefeller is 200 feet. The center's tower is 156 feet. Tod gave the reason: "I'd like to think we were respectful of Rockefeller Chapel, but if we had had the budget..."
After the slide show...
Architects and audience repaired to a lobby reception where renderings of the center were on display.
Mary Ruth Yoe
November 17, 2009