May 2012

| Sun | Mon | Tue | Wed | Thu | Fri | Sat |
| --- | --- | --- | --- | --- | --- | --- |
| | | 1 | 2 | 3 | 4 | 5 |
| 6 | 7 | 8 | 9 | 10 | 11 | 12 |
| 13 | 14 | 15 | 16 | 17 | 18 | 19 |
| 20 | 21 | 22 | 23 | 24 | 25 | 26 |
| 27 | 28 | 29 | 30 | 31 | | |
---
CATEGORIES
---
RECENT ENTRIES
---
BLOG ROLL
Knit one, flash two

They knit; they crochet; they're funny as hell. Sisters Kathleen, AB'84, and Sharon Kelly own Arcadia Knitting, a yarn shop in Chicago's Uptown neighborhood. Before launching the business in 2000, Kathy applied her Chicago economics degree as a marketing consultant and Sharon, in her own words, had "a series of crap-tastic jobs." UChiBLOGo's Elizabeth Station stopped by the store to fondle the latest yarns and hear all about the "data-bling mitten" (pdf pattern)—what the well-accessorized geek is wearing this winter.
Tell me about the little mitten you're wearing around your neck. Does it have a flash drive inside? How did the idea for this come about?
SHARON: I've been working on the editing certificate at the Graham School of the University of Chicago. My very first professor, Susan Allan, always had two or three of these data sticks on, and she referred to them as 'the data bling.'
So she wore flash drives around her neck, but not with any knitwear?
SHARON: Not with any knitwear, no. I was on the way home from class, thinking about the knitting and the bling, and wondering, 'Is there a way to cute these things up?' Because I see people walking into the shop all the time; they've got one or two flash drives on, they've got their work tag—the corporate tagging, if you will. I thought, 'Is there any way to individualize that?' Then I sat down and said, 'I'm going to make a little mitten for this thing.'
Who are your clients at Arcadia Knitting?
KATHY: There are the new grandmothers who used to knit years ago, and started again when they got their first grandkids. Then there are the younger people who want to do something creative and think, 'Not everything I own should be from The Gap.' Knitting is also a way to meet people. Our clients are single and dating; they come in with their girlfriends, take classes, and do things together, and then they mate. They're prepared to make the baby blanket, and then they have the baby and we don't see them for eight years.
SHARON: I've actually seen that cut down to five.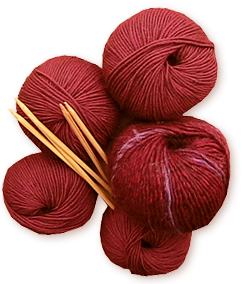 What about teenagers who knit?
KATHY: There have always been crafty girls.
Any men?
KATHY: Oh hell, yeah.
SHARON: There were four in yesterday. They're looking for a mate or a partner, but they're not necessarily looking for someone of the opposite gender.
KATHY: Knitting runs across sexual orientation. Even the tattoo artists are signaling, 'I'm ready to mate, to pair up.'
What are you selling right now that you really like?
SHARON: We have some fabulous yarns from Karabella. We have fabulous knitting bags and supplies from della Q. We have Jade Sapphire cashmere—100 percent Mongolian cashmere, the good stuff.
KATHY: Because cashmere supply is dicey. There's a lot of mislabeling.
SHARON: There are also a lot of bad goats. Unhealthy goats.
How has the recession affected knitting?
SHARON: I'm seeing a lot more people bring half-finished projects out of the closet. The record is 15 years. We found the sales slip.
Did you learn anything practical in your college econ courses that help you run a business?
KATHY: You use the training every day. It's the whole pushing-boundaries-and-always-testing-yourself thing. Oh, and being bossy. You can go out into the world and the world can present you with a lot of BS, but you've been taught to see through the BS.
SHARON: It wasn't the degree in economics; it was that Core-class stuff of: 'Here's a subject, how do you study it?' Watching her apply the University of Chicago approach to crochet and then spinning … [laughter]. She decides she's going to conquer crochet, so she finds what are defined as, shall we say, the five core masterworks—the great books of crochet. So she sits down with the great works of crochet and her ball of yarn, reads a little from the beginning, middle, and end of each book; reads the index, cross-references, and makes her little program of study. And watching the piles of granny squares grow, I have to admit—
KATHY: That's actually true.
Was it a good way to learn?
KATHY: Yeah, because the knowledge you gain when you realize that there is no one, standard granny-square pattern, that there are variations, then gives you the freedom when you practice the craft to do whatever the hell you want.
So, granny squares as metaphor.
KATHY: Yes.
---
RELATED LINKS:

November 23, 2009