May 2012

| Sun | Mon | Tue | Wed | Thu | Fri | Sat |
| --- | --- | --- | --- | --- | --- | --- |
| | | 1 | 2 | 3 | 4 | 5 |
| 6 | 7 | 8 | 9 | 10 | 11 | 12 |
| 13 | 14 | 15 | 16 | 17 | 18 | 19 |
| 20 | 21 | 22 | 23 | 24 | 25 | 26 |
| 27 | 28 | 29 | 30 | 31 | | |
---
CATEGORIES
---
RECENT ENTRIES
---
BLOG ROLL
Death row's new life
Lara Lavi, X'82, is a new-media/entertainment-law attorney, singer-songwriter, CEO of WIDEawake Entertainment Group, and a self-described "Jewish soccer mom." Her eclectic résumé includes a BA in wildlife biology and natural-resource policy from the University of Michigan; a law degree, with a focus on environmental law, from the University of Oregon; legal work for the Muckleshoot Indian Tribe; and two solo albums, The Art of Living and Inside the Red Room.
In April, Lavi helped guide WIDEawake's purchase of the infamous rap label Death Row Records and its back catalog, which includes recordings by Tupac Shakur, Dr. Dre, and Snoop Dogg. It's hard to imagine anyone more different from Death Row's enormous and terrifying founder, Suge Knight, who, according to legend, once dangled rapper Vanilla Ice off a hotel balcony to get him to sign over rights to the song "Ice Ice Baby."
Lavi recently spoke to UChiBLOGo's Carrie Golus, AB'91, AM'93, by phone.
---
Did you like gangsta rap when it first came out?
No. But I've grown to appreciate it, I will say that. Sort of.
No, I'm kidding. I appreciate all well-done forms of music. Am I the kind of person, demographically, that would gravitate towards gangsta rap? Probably not. I don't think I should fool anybody or myself on that point.
People ask me all the time, what were you thinking? This is music that relates to gang violence, mistrust of the police, and misogyny. I have had to give this tremendous thought.
On a business level, this is an asset that is continually generating significant income. And on a substantive level, I've come to realize that a lot of this music in many ways is protest music. You have to peel back the swearing and understand that these guys were trying to find a way to align. They were trying to express the fact that they do not feel part of mainstream society. This was alternative socioeconomic folk music in some degree.
How did your company end up acquiring Death Row?
I was recruited in 2005 to evaluate the viability of a new-breed entertainment company that cross-collateralized its divisions of music, film, production, and technology. About a year ago I got the green light to acquire a significant asset. And quite to my surprise, we publicly bid $18 million for Death Row and not a penny over that, and we were the winners.
Now in retrospect, I can see why people were reticent to acquire this asset. The books and records were in very poor order. But the biggest challenge has been trying to figure out a way to work with the artists, because they're very hostile toward the brand at this point. They never got paid royalties under Suge Knight. He basically kept all the money, I guess. I still don't really understand what he did.
Our practice is to pay royalties and have excellent relationships with artists. I could never live with myself if we were doing things that were disreputable. Amazingly, I thought the most difficult relationship was going to be with the Tupac Amaru Shakur estate, and as it turns out, it is our absolute best relationship. [Shakur, one of the best-selling hip-hop artists of all time, died in 1996 at age 25.] That's 50 percent of our income.
Are there upcoming Tupac projects?
Yes. We're entitled, as per the court documents, to 13 unreleased Tupac compositions. We're going to put those out in June 2010. That's the goal. And Afeni Shakur [Tupac's mother] is trusting me with the creative control of it. I intend benchmark production value on All Eyez on Me, one of Tupac's best-selling albums, which I think will make fans happy, because they're looking for pure Tupac. We're trying to honor Tupac and what he intended.
Tupac also wrote a screenplay for a film, Live 2 Tell, when he was in prison. I'm looking for ways that we can option that. The script is fabulous.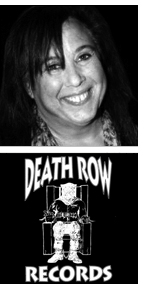 What was your time at the University of Chicago like?
I loved the academic experience, absolutely loved it. I have very fond memories of my Chicago days. I realize now I was very privileged to take economics classes, which have helped me greatly in my business.
I was getting good grades, fulfilling all the requirements, but for financial reasons I had to drop out. I started working as a waitress at the Kingston Mines Blues Bar. By the time I was done, I was singing with [Chicago blues legend] Jimmy Johnson, who's 80 now. He used to drive me home to Hyde Park on his way back to Harvey, and sing me blues licks and teach me blues inflection.
How did you end up working for an Indian tribe?
With my science and environmental background, the obvious job if you want to stay pure—not end up on the polluters' side—is to work for one of the tribes. So I ended up working for the Muckleshoot. I think I was making all of $18,000 a year.
Working for the tribe was a huge influence on me. I would periodically go to powwows, and spend time with elders. I ended up forming a group called the Songcatchers with a very dear friend of mine, Charles Neville, the saxophonist for the Neville Brothers. The group merged rock with full-on Indian powwow singing and drumming. That project toured all over the place, with Peter Gabriel and the Neville Brothers.
What kind of music do you like to listen to?
Anybody that knows me knows that I am a die-hard and absurdly neurotic Bruce Springsteen fan. I have no apologies. Bruce, if you're out there, and you're reading the University of Chicago alumni blog, I love you. I will always love you.
November 4, 2009