May 2012

| Sun | Mon | Tue | Wed | Thu | Fri | Sat |
| --- | --- | --- | --- | --- | --- | --- |
| | | 1 | 2 | 3 | 4 | 5 |
| 6 | 7 | 8 | 9 | 10 | 11 | 12 |
| 13 | 14 | 15 | 16 | 17 | 18 | 19 |
| 20 | 21 | 22 | 23 | 24 | 25 | 26 |
| 27 | 28 | 29 | 30 | 31 | | |
---
CATEGORIES
---
RECENT ENTRIES
---
BLOG ROLL
Smorgasborgia
It's a rare occasion that either of us finds a reason to cross the state line into Indiana, but the promise of good Italian cooking proved incentive enough. Luckily, the Hoosier State is closer to Chicago than we'd remembered. After a quick, cheap train ride on the South Shore Line (a 28-minute journey from Hyde Park to Hammond, Indiana, costs less than $5), we found ourselves in the hospitable hands of Karen, AM'83, MBA'89, and Mike Jesso, the husband-and-wife team behind Café Borgia.
The Jessos had originally intended to open their café down the street from the Medici on 57th, naming their restaurant after the Italian Borgia family, historical rivals of the Medicis. When their Hyde Park plan fell through, they settled on a Lansing, Illinois, location instead and moved to nearby Munster in August 2007. But they kept the name. Ever the Chicago scholar, Karen had done her research on the Borgias, discovering that the family was known for its love of fine dining. She says her executive-chef husband even incorporated some Borgia family favorites into the modern Italian menu.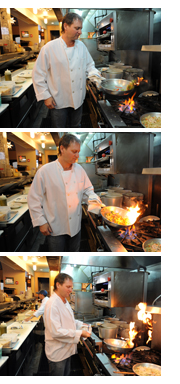 That menu led to some moments of agonizing indecision, as we wavered between prosciutto-wrapped mozzarella or mozzarella en carozza (essentially fancy mozzarella sticks) to start. We got both, each served in a pool of Chef Jesso's tomato sauce—what Karen calls "a modern version" of the traditional sauces cooked for hours. The pesto sauce, which we tasted in the roasted red pepper pesto spread appetizer, is made from the basil plants the Jessos grow in small garden plots outside the restaurant—enough for a year's worth of pesto. Before the frost hits, they make 100 pounds of pesto, freezing it for winter.
By the time we got to our entrees—shrimp and seashells in a tomato-vodka sauce and rigatoni with smoked chicken—we were nearly stuffed. And the tiramisu summoned us with its ladyfingers, so we decided to take most of our pasta dishes home to save room for dessert, which also included the restaurant's signature zucotto (chocolate cake filled with white-chocolate mousse and pistachios) and rice pudding. No surprise that we left with two heavy doggie bags.
For one of us, the leftovers were sadly never to be enjoyed. The victims of a surprise office refrigerator cleaning, the leftover rigatoni and smidgen of remaining zucotto most likely ended up in the trash or—the better option—were enjoyed by the person cleaning out the fridge. Another reason to make our way back to Borgia.
Elizabeth Chan and Ruth E. Kott, AM'07
Photos by Dan Dry
November 19, 2009