May 2012

| Sun | Mon | Tue | Wed | Thu | Fri | Sat |
| --- | --- | --- | --- | --- | --- | --- |
| | | 1 | 2 | 3 | 4 | 5 |
| 6 | 7 | 8 | 9 | 10 | 11 | 12 |
| 13 | 14 | 15 | 16 | 17 | 18 | 19 |
| 20 | 21 | 22 | 23 | 24 | 25 | 26 |
| 27 | 28 | 29 | 30 | 31 | | |
---
CATEGORIES
---
RECENT ENTRIES
---
BLOG ROLL
Will to sustain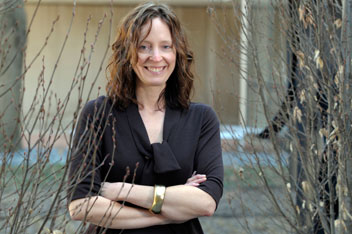 When she became the University of Chicago's first sustainability director in November 2008, Ilsa Flanagan discovered a quick path to the professional compost heap. "I'd tell people we should have an energy policy, and they'd say, 'If you want to lose your job in the next two months, tell people that,'" Flanagan said. "They don't like policies at the University of Chicago."
Decentralized, opinionated Chicago might not like policies, but the energy generated from its interdisciplinary cross currents offers advantages. Flanagan's previous employer, LaSalle Bank in Chicago, had a top-down structure both in its organizational chart and in its 45-story headquarters. The University's environment is different, and so its approach to sustainability must be as well.
Within the 211-acre Hyde Park campus, 30,000 people live and work in 260 buildings. From an environmental standpoint, "it's all about the buildings," Flanagan said at her November 12 Gleacher Center talk on "Sustainable Organizations: Building a Framework." The impact of those facilities is so essential to campus sustainability that former Board of Trustees chair James S. Crown donated $2.5 million this year to study their greenhouse-gas emissions and energy use and to implement efficiency upgrades.
New facilities go through the Leadership in Energy and Environmental Design (LEED)–certification process, but they do not simply follow the principles of sustainable design. The broader mandate is to make environmental practices a more—ahem—organic part of a building's operation or a person's daily routine. The Searle Chemistry Laboratory, for example, has a "green roof" that reduces the facility's energy use. On an individual level, artists can conserve materials to reuse on multiple projects.
Flanagan engages academics such as economist Richard Thaler, author of Nudge, to brainstorm persuasive ways to frame the issue and subtle methods to change behavior. And behaviors have changed: Since her arrival last year the University has diverted 30 percent of its landfill waste into recycling. The word "recycle" itself has taken on an added meaning; it's the name of the University's new free bike-sharing program. Another initiative, SAGE (Sustainable Actions for a Greener Environment), enlists student ambassadors and others to educate people about sustainability practices.
With the range of issues she faces, Flanagan can use the help. Green construction, composting, light bulbs, double-sided printing—the subjects that cross her desk range from the big picture to the pixel. Then there are the product pitches, proof that the word "green" does not apply to environmental concerns alone. "I probably get two to three calls from vendors daily," Flanagan noted, "saying, 'I've got the best cubicle material, the best carpet, the best whatever.'
Determining what's best for the University of Chicago remains an ongoing discussion, which she intends to continue until the idea of a sustainability director becomes an anachronism. "You want to work yourself out of a job," Flanagan said—not that she would make that a policy.
Jason Kelly
Photo by Lloyd DeGrane
November 25, 2009