May 2012

| Sun | Mon | Tue | Wed | Thu | Fri | Sat |
| --- | --- | --- | --- | --- | --- | --- |
| | | 1 | 2 | 3 | 4 | 5 |
| 6 | 7 | 8 | 9 | 10 | 11 | 12 |
| 13 | 14 | 15 | 16 | 17 | 18 | 19 |
| 20 | 21 | 22 | 23 | 24 | 25 | 26 |
| 27 | 28 | 29 | 30 | 31 | | |
---
CATEGORIES
---
RECENT ENTRIES
---
BLOG ROLL
Some red, some blue, all Maroon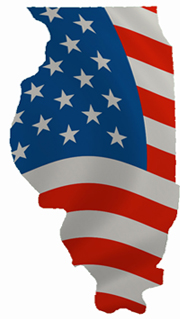 As you've no doubt realized in recent days—ahem, Massachusetts—the 2010 midterm elections are going to be exciting. Even in a reliably blue state like Illinois, there will be a few nail-biter elections that could affect the balance of power in Washington for the next several years. And although we have to wait until November for the final results, election junkies can whet their political appetites with the upcoming primaries (February 2 in Illinois). Scanning the list of local candidates, we were delighted to discover that several U of C alumni are putting their critical-thinking skills to good use and seeking public office.
Know of any Maroons who are running for Congress or a statewide office outside of the Prairie State? Let us know.
U.S. Senate from Illinois
Former Chicago Inspector General David Hoffman, JD'95, was once head of the Law School Democrats and articles editor of the University of Chicago Law Review. Now he's running for Senate against a Democratic pool of contenders that includes Illinois Treasurer Alexi Giannoulias and Chicago Urban League President and CEO Cheryle Jackson. The former federal prosecutor has received primary endorsements from the Chicago Tribune; Chicago Sun-Times; Daily Herald; State Journal-Register; and retired congressman, judge, and senior director of the Law School's Mandel Legal Aid Clinic Abner Mikva, JD'51. And, like a previous occupant of the Senate seat he hopes to fill, Hoffman is a lecturer at the Law School—this spring he will teach Public Corruption and the Law.
U.S. House, 5th District of Illinois
If you thought you just saw the name Mike Quigley on a ballot for this North Side district, you're not mistaken. The rookie congressman made headlines this past April when he won the special election to fill White House Chief of Staff Rahm Emanuel's recently vacated House seat—and he's already up for re-election. Quigley, AM'85, who holds a master's degree in public policy from the Harris School and has served as a Cook County commissioner, is running unopposed in the primary, which must be a nice change from the previous one. He faced 11 other Democratic candidates in 2009, including fellow Maroon Charles Wheelan, PhD'98, a Harris School senior lecturer and alumnus.
U.S. House, 10th District of Illinois
Democrat Dan Seals, MBA'01, grew up in Hyde Park and married a fellow Chicago Booth alum, Miyako Hasegawa, MBA'02. A former high-school teacher in Japan and Presidential Management Fellow, Seals ran for the north-suburban 10th District seat (once held by Mikva) in the past two election cycles and narrowly lost to Republican incumbent Rep. Mark Kirk both times. Could the third time be the charm? Kirk is now running for the Senate, and there are signs the district might be receptive to Democratic representation—61 percent of residents voted for President Obama in 2008. Seals, who has two Democratic opponents, has been endorsed by the Daily Herald.
Arie Friedman, AB'87, is running for the 10th District seat in the GOP primary, channeling the Republican zeitgeist by campaigning as a political outsider. He wrote to local Republicans: "I am not a lawyer, a politician, or an MBA, but I believe this moment in history requires people with talents and experiences outside the mainstream of Washington, DC." Friedman comes from a true Maroon family—he studied biology at the College, returned to Hyde Park to complete his medical residency at the Med Center, and has three siblings who also call Chicago their alma mater. Friedman, a Gulf War veteran, practices pediatrics, was recently named a top doctor by North Shore magazine, and has been endorsed by Reklama and Chicago Review.
U.S. House, 13th District of Illinois
Scott Harper, MBA'85, is already focusing his attention on the general election. Running unopposed in the southwest suburbs' 13th District Democratic primary, he hopes his second attempt to unseat Rep. Judy Biggert will succeed this fall. Although he lost to Biggert in 2008 by 10 percentage points, he notes that it was her "lowest ever margin of victory" and that the Democratic Congressional Campaign Committee encouraged him to renew his campaign. Harper has worked as a manufacturing executive and entrepreneur. He started Closer Look, a consulting firm specializing in media, design, and marketing and also uses his Chicago Booth background as an instructor in ethics and leadership at North Central College.
Illinois Comptroller
Jim Dodge, MBA'93, is currently putting his Chicago Booth degree to good use as a vice president for the Nielsen Company, where his team provides information consulting to Fortune 500 businesses. He's been active in Republican politics since the 1980s, when he was a volunteer in the Reagan campaign. Dodge has held elected office in Orland Park for more than 20 years, including 13 years as a village trustee. He has also sat on the Metra board of directors since 2004. Dodge has two Republican opponents in the primary, including former Illinois Treasurer and one-time gubernatorial candidate Judy Baar Topinka. He has been endorsed by several Republican organizations at the county and township level.
Cook County Board President
Toni Preckwinkle, AB'69, MAT'77, is campaigning on a platform of openness and transparency for a position that has been held by such controversial Chicago politicians as John Stroger and his son and successor Todd (who is running for re-election). Preckwinkle, who is married to Zeus Preckwinkle, AB'69, began her career as a high-school history teacher before turning to politics; she is currently serving her fifth term as the alderman of Chicago's 4th Ward, which includes portions of Hyde Park. As an alderman, Preckwinkle has received five IVI-IPO Best Alderman Awards and has made affordable housing and neighborhood revitalization top priorities. The Chicago Tribune, Chicago Sun-Times, Daily Herald, and Chicago Journal have endorsed her.
Elizabeth Chan
January 25, 2010