May 2012

| Sun | Mon | Tue | Wed | Thu | Fri | Sat |
| --- | --- | --- | --- | --- | --- | --- |
| | | 1 | 2 | 3 | 4 | 5 |
| 6 | 7 | 8 | 9 | 10 | 11 | 12 |
| 13 | 14 | 15 | 16 | 17 | 18 | 19 |
| 20 | 21 | 22 | 23 | 24 | 25 | 26 |
| 27 | 28 | 29 | 30 | 31 | | |
---
CATEGORIES
---
RECENT ENTRIES
---
BLOG ROLL
First comes love...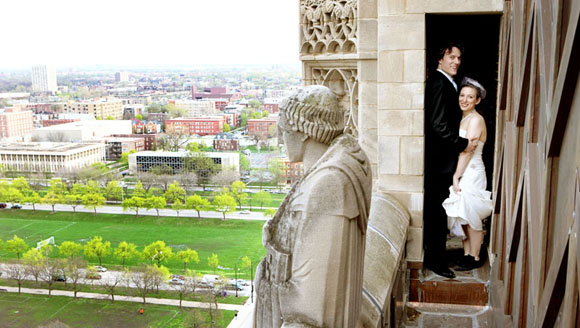 The U of C may be where fun comes to die, but it's also where love blossoms. Whether locking eyes across Hutch Commons or bonding over Human Being and Citizen readings, countless couples have found themselves tumbling head-over-heels on the quads. As Valentine's Day approaches, we take a stroll down the exhilarating—and often rocky—road to romance.
1. Find love at first, second, third sight
For Gabriel Rhoads, AB'01, and Lauren (Lickus) Rhoads, AB'99, getting from "Hello" to a Rockefeller Chapel wedding photo (above) took a few missteps. Although they were introduced through a mutual friend, Merrick Schaefer, AB'99, during Gabriel's first year, Lauren has no memory of the meeting. When they "met" a second time, again through Merrick, the two became fast friends. In January 1999 Lauren showed up at Gabriel's dorm room with wine and a foreign film—her idea of a perfect first date—only to find him completely oblivious to her romantic intentions. After much ado, they finally got on the same page and tied the knot last year.
2. Pucker up
Knowing when to make that first move is always complicated, but for ancient Greeks and Romans, says classicist Donald Lateiner, AB'65, kissing was an especially tricky affair. "It's a behavior where errors can be fatal," says the John R. Wright professor of humanities-classics at Ohio Wesleyan, who spoke about kissing protocols. After all, he says, romantic kissing is only one form of the activity; kissing can also show deference. In Homer's The Odyssey, for example, Odysseus's servants kiss their master's shoulders upon his return, but they wouldn't dare kiss his eyes or lips. Romans were even more cautious about who and how they kissed, as evidenced by first-century poet Martial, who suggested people avoid others' kisses by smearing a salve on their face to feign mentagra parasitica, a potentially deadly facial disease. Of all the things he's learned about smooching, this "connection of kissing with personal catastrophe" was the most surprising, says Lateiner, who confesses that despite his research on the topic, his wife still "doesn't think I'm a very good kisser."
3. Get hitched
After surviving the tribulations of courtship, it's time to say "I do." For some guidance, couples can consult Getting Hitched: The Rough Guide to Weddings for Girls & Guys (Rough Guides), cowritten by Sean Mahoney, AB'00, and Nadine Kavanaugh, AB'99. Released earlier this month, the 250-page primer explains how to organize a ceremony that fits your personality, pick a bridal party that won't drive you crazy, and, perhaps most importantly, weather the emotional storms that come with planning the big day.
Brooke E. O'Neill, AM'04
February 11, 2010