May 2012

| Sun | Mon | Tue | Wed | Thu | Fri | Sat |
| --- | --- | --- | --- | --- | --- | --- |
| | | 1 | 2 | 3 | 4 | 5 |
| 6 | 7 | 8 | 9 | 10 | 11 | 12 |
| 13 | 14 | 15 | 16 | 17 | 18 | 19 |
| 20 | 21 | 22 | 23 | 24 | 25 | 26 |
| 27 | 28 | 29 | 30 | 31 | | |
---
CATEGORIES
---
RECENT ENTRIES
---
BLOG ROLL
All's fair in love and gore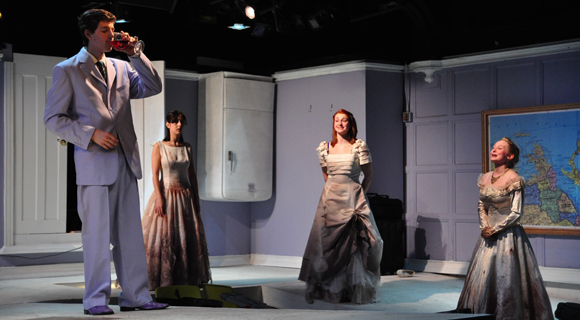 University Theater's production of Big Love is, above all else, fun. Sure, 49 people die in the play, and most of the cast is soaked in blood by the time final bows come around. But with an upside-down set, a soundtrack featuring Drake and Lady Gaga, and a colorful cast of characters, this year's winter-quarter production brings out a smile a minute.
Big Love, written by Charles Mee and first performed in 2000, tells the story of 50 sisters—represented by three women who enter and exit the stage in ragged wedding dresses—and their arranged marriages to their 50 cousins. Set in the present day, Mee's production combines Aeschylus's influence with a modern flavor, plus a distinct sense of self-awareness and frequent crowd interaction. (At one point, one of the sisters said, "Surely there's a sociopath somewhere who wants to make a deal," and pointed at my roommate in the front row.)
UT's rendering of Big Love lets the audience know what it's in for right from the beginning, as the audience—walking into a set that takes the form of an upside-down house—is warned of the possibility of blood and cake splattering into the few rows surrounded by stage on three sides. The first action on stage is one of the sisters entering and promptly stripping down to her underwear and taking a seat in the upside-down refrigerator.
The soundtrack also plays a role, with Billboard hits generously sprinkled throughout. Drake's "Forever" escorts the cousins on stage for their tremendously cool entrance. During the wedding, the cast breaks it down to the tune of Lady Gaga's "Bad Romance"—at least until the brides start murdering their grooms.
It's not all death-by-axe, though—one of the sisters does find love. When that comes around, the audience just has to try to forget that her groom is also her cousin.
Jake Grubman, '11
March 15, 2010