May 2012

| Sun | Mon | Tue | Wed | Thu | Fri | Sat |
| --- | --- | --- | --- | --- | --- | --- |
| | | 1 | 2 | 3 | 4 | 5 |
| 6 | 7 | 8 | 9 | 10 | 11 | 12 |
| 13 | 14 | 15 | 16 | 17 | 18 | 19 |
| 20 | 21 | 22 | 23 | 24 | 25 | 26 |
| 27 | 28 | 29 | 30 | 31 | | |
---
CATEGORIES
---
RECENT ENTRIES
---
BLOG ROLL
Glorious Homilius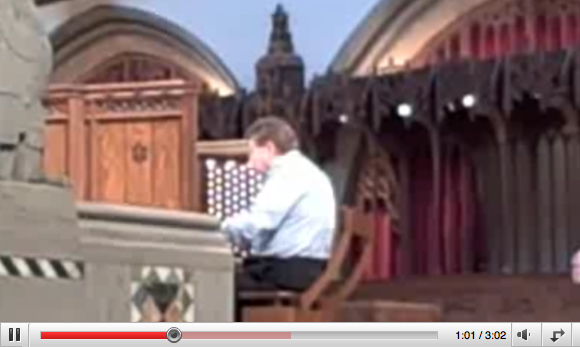 Two weeks ago I slipped away from my desk and stepped inside Rockefeller Memorial Chapel to cover Tea and Pipes. A regular Tuesday event, the afternoon concert pairs music from University Organist Thomas Weisflog, SM'69, with tea and baked goods, all gratis.
With a cup of peach tea and two cookies—one dotted with sugar crystals and another iced in chocolate frosting—I walked toward the front of the chapel. Concertgoers of all ages were scattered throughout the pews. I settled into the second row and took in the imposing arches, the altar spires, the flower-motif stained-glass window.
Weisflog approached the microphone to introduce the afternoon's "eclectic" program. He started with the strong, sharp sounds of Bach's Prelude in C Minor, BWV 546, and ended with Louis Vierne's dramatic, almost earth-shattering Carillon de Longpont. Nestled in between were lighter selections, including the chorale prelude to Gottfried August Homilius's Durch Adams Fall Ist Ganz Verderbt for organ and oboe.
An 18th-century German composer who studied with Bach and taught Johann Adam Hiller, Homilius also played organ for the Dresden Frauenkirche church, which collapsed during World War II and was later reconstructed. In the Treasury of Early Organ Music, E. Power Biggs describes Homilius's Durch Adams Fall: "As Bach learned from Pachelbel, so did Homilius from Bach. ... Originally for solo oboe and organ, the prelude has been adapted for organ alone by giving the chorale melody to the pedal."
Weisflog called the composition "a lovely little gem," and I can't think of a more apt description. Experience it for yourself above.
Katherine E. Muhlenkamp
March 16, 2010