May 2012

| Sun | Mon | Tue | Wed | Thu | Fri | Sat |
| --- | --- | --- | --- | --- | --- | --- |
| | | 1 | 2 | 3 | 4 | 5 |
| 6 | 7 | 8 | 9 | 10 | 11 | 12 |
| 13 | 14 | 15 | 16 | 17 | 18 | 19 |
| 20 | 21 | 22 | 23 | 24 | 25 | 26 |
| 27 | 28 | 29 | 30 | 31 | | |
---
CATEGORIES
---
RECENT ENTRIES
---
BLOG ROLL
Go medieval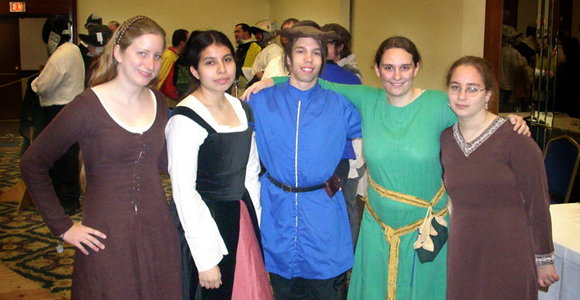 Students in Chicago's south-side branch of the historical reenactment group Society for Creative Anachronism—Shire of Grey Gargoyles—have been "practicing any and all medieval arts, from broadsword combat to glassblowing to dance and everything in between" since the 1970s. In an e-mail interview with UChiBLOGo, SCA member Nicole Ridgwell, '11, talks about doing research in the Reg to pick her medieval name, attending the Rockefeller coronation of Midrealm's king and queen, and learning to sew so that she could construct her own period dress.
---
How did you come up with your medieval name?
My last name comes from a small town in England that is recorded in the Domesday Book. After some Internet research, I went to the Reg and checked [out] a book of all the personal names mentioned in the Domesday Book. I choose three that I really liked, and after some debate I decided on Alwynn, which can mean either noble friend or elf friend in Old English.
What was your first SCA experience like?
I attended a Sunday fighter/sewing practice my first year. At that first practice I was able to choose some very nice fabric and a simple pattern to make my first costume. Caitlin, the student SCA group president at that time, helped me construct the dress and taught me the basics of sewing. I got to wear my newly made dress at Stone Dog Inn, a local annual event held at Ida Noyes. I played medieval gambling games using specially cast medieval-type coins and met a large group of friendly people who shared my enjoyment of medieval history.
Describe your best SCA experience.
This past fall our local group hosted the 40th anniversary of the Midrealm (a kingdom composed of the northern midwest) and the coronation of the king and queen of the Midrealm. The coronation was held in Rockefeller Chapel and around 600 people in medieval garb attended. The elaborate procession into Rockefeller was an amazing sight that I will never forget.
If you had a friend interested in joining, what would be your pitch?
SCA is a fun way to explore whatever you want in medieval or even pre-medieval history. Unlike a history class you don't have to write papers or take tests. You can immerse yourself in history through crafts or fighting or dance instead of looking at history through the more objective, external lens of strict research.
What's the best way to get started?
Come to Sunday practices at Ida Noyes. Spring quarter practices start April 18, 2-5 p.m. We will be out on the Midway or in Ida Noyes' West Lounge on the second floor. Check our Web sites (http://www.midrealm.org/greygargoyles and http://groups.yahoo.com/group/GreyGargoyles) for more information about upcoming events. We can even loan you garb.
Joy Miller
Nicole Ridgwell (in green) with members of the UChicago SCA student group at Midrealm's 2008 Crown Tournament of Their Majesties Ullr et Annelyse. Photo courtesy of Ridgwell.
---
RELATED READING:
March 22, 2010