May 2012

| Sun | Mon | Tue | Wed | Thu | Fri | Sat |
| --- | --- | --- | --- | --- | --- | --- |
| | | 1 | 2 | 3 | 4 | 5 |
| 6 | 7 | 8 | 9 | 10 | 11 | 12 |
| 13 | 14 | 15 | 16 | 17 | 18 | 19 |
| 20 | 21 | 22 | 23 | 24 | 25 | 26 |
| 27 | 28 | 29 | 30 | 31 | | |
---
CATEGORIES
---
RECENT ENTRIES
---
BLOG ROLL
Lines of duty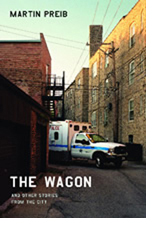 Chicago police officer Martin Preib is "a born wagon man." A cop by trade, a writer at heart, Preib gave up his publishing aspirations when he joined the force. But the troubled lives and grisly deaths he encountered while hauling criminals to jail and bodies to the morgue compelled him. There were stories in the wagon.
Now he's compiled those tales in The Wagon and Other Stories from the City (University of Chicago Press, 2010). Preib's collection explores race, class, and gender issues, along with the dark corners of the city encountered from his patrol car. There are no stock characters in Preib's account, John Kass writes in the Chicago Tribune. Instead, "the hero is an intelligent man trying to figure things out."
The Wagon is part of the U of C Press's Chicago Visions and Revisions series, which includes The Plan of Chicago: Daniel Burnham and the Remaking of the American City and Soldier Field: A Stadium and its City.
Jason Kelly
March 10, 2010