May 2012

| Sun | Mon | Tue | Wed | Thu | Fri | Sat |
| --- | --- | --- | --- | --- | --- | --- |
| | | 1 | 2 | 3 | 4 | 5 |
| 6 | 7 | 8 | 9 | 10 | 11 | 12 |
| 13 | 14 | 15 | 16 | 17 | 18 | 19 |
| 20 | 21 | 22 | 23 | 24 | 25 | 26 |
| 27 | 28 | 29 | 30 | 31 | | |
---
CATEGORIES
---
RECENT ENTRIES
---
BLOG ROLL
Manny about town
Who can't relate to stories about a three-year-old who likes to squat down and pee in the floor vents, a toddler who hides mommy's tampons in the stereo speakers, and tender film footage of an exhausted dad dealing with midnight tantrums and visits to the ER? John Hildreth, AB'00, (below) doesn't have any kids of his own, but that didn't stop him from directing a new play called The Manny Diaries at Chicago's Gorilla Tango Theater.
The Diaries is a one-man show written and performed by Bob Wiltfong (left), Hildreth's former student at the Second City. Combining wry anecdotes with videos from the parenting frontlines, Wiltfong tracks his travails as a stay-at-home dad with three small kids and "zero idea what he's doing." Getting acquainted with the "manny" lifestyle was fun for Hildreth (right), who worked with Wiltfong "to make sure that his material would have universal appeal—not just to suburban parents." The audience at the show's March 6 premiere included several people who had babysat for Wiltfong's kids, but the jokes also hit home with urban sophisticates.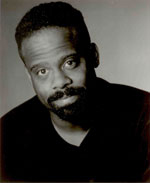 Hildreth may be the hardest-working man in Chicago theater. This week, he is directing an evening of radio theater at Columbia College—where he also teaches—and a long-form improvisational piece called Momma's Medicine. An artistic ensemble member at Lifeline Theater, he has won Jefferson citations for his stage adaptations and has performed and directed at The Second City and other venues.
"When I was at U of C, there was no theater department," says Hildreth, who studied chemistry. "Pretty much anyone who wanted to put up a play would form a theater group, get a faculty adviser, and just do it. I'm sure it's much more organized and professional now."
Elizabeth Station
March 17, 2010