May 2012

| Sun | Mon | Tue | Wed | Thu | Fri | Sat |
| --- | --- | --- | --- | --- | --- | --- |
| | | 1 | 2 | 3 | 4 | 5 |
| 6 | 7 | 8 | 9 | 10 | 11 | 12 |
| 13 | 14 | 15 | 16 | 17 | 18 | 19 |
| 20 | 21 | 22 | 23 | 24 | 25 | 26 |
| 27 | 28 | 29 | 30 | 31 | | |
---
CATEGORIES
---
RECENT ENTRIES
---
BLOG ROLL
Peeps...outside the box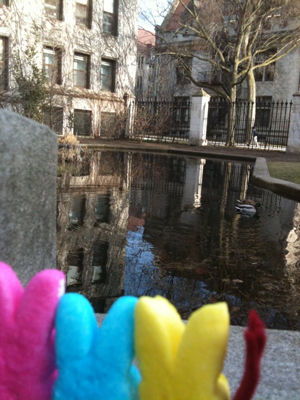 It must be spring: we've started to hear a few peeps from readers clamoring for a reprise of last year's Peeps Diorama Contest.
This time we want you to take your marshmallow creatures out into the world. Our inspiration: the National Geographic Traveler's Peeps in Places Photo Challenge.
Your mission:

Check out entries on the NGT site for examples.


Walk around the quads, Rockefeller, or any other campus site that strikes you as the perfect place for Peeps. If you're not near a University campus, put your Peeps in a place where Chicago peeps feel at home—or Photoshop them there.


Shoot your pix and send to uchicago-magazine@uchicago.edu with "Peeps Photos" in the subject line, or add photos to our Flickr group directly at www.flickr.com/groups/uchicagopeeps/
Although Peeps last forever, this photo opp has a shorter lifespan. All photos must be received by midnight on Monday, April 5.
Look for our favorites on UChiBLOGo next week. And, yes, there will be a prize. As soon as we peep one up.
---
RELATED READING
Washington Post Peeps Show IV : Annual Peeps diorama contest
March 25, 2010