May 2012

| Sun | Mon | Tue | Wed | Thu | Fri | Sat |
| --- | --- | --- | --- | --- | --- | --- |
| | | 1 | 2 | 3 | 4 | 5 |
| 6 | 7 | 8 | 9 | 10 | 11 | 12 |
| 13 | 14 | 15 | 16 | 17 | 18 | 19 |
| 20 | 21 | 22 | 23 | 24 | 25 | 26 |
| 27 | 28 | 29 | 30 | 31 | | |
---
CATEGORIES
---
RECENT ENTRIES
---
BLOG ROLL
In an instant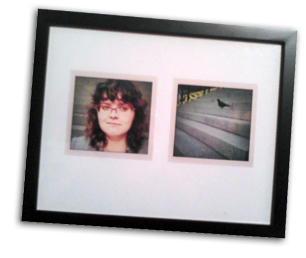 More than 60 years ago, the Polaroid Corporation created the world's first instant camera. What was the most appealing aspect of this new product? Arguably, it was its immediacy, its portability, and the instant access it provided to a picture users had taken just minutes before.
Sarah Best, X'03, understands the appeal of the Polaroid. In her photography exhibit, "Daily Photos," her cell-phone images—of friends in social settings, close-up portraits of faces, and inanimate objects—have that same sense of intimacy and immediacy. The compactness and ubiquity of cell-phone cameras make their presence at a party or social gathering virtually unnoticeable, and this lends Best's photos an in-the-moment quality that puts the viewer in the room with her subjects. Adding to this sense of immediacy is Best's preoccupation with movement. She captures a dancer's twirling skirt as she spins across a wood floor, a cellist in the midst of an impromptu performance, and even the worktable in her kitchen as she rolls out and prepares to bake cookies.
"Daily Photos" is an homage to instant cameras of the past: Best uses the iPhone App "ShakeIt" to give her photos a white border and a square shape, just like a Polaroid. But she also loves that a cell phone allows its user to take a picture and share it instantly by e-mail or via social networking sites. Best encourages visitors at her exhibit to instantaneously capture and share images of her show with their own phone cameras.
Best, a former poetry major at New York University's Gallatin School of Individualized Study, was inspired by Frank O'Hara's poetry collection Lunch Poems (1964) and Robert Mapplethorpe's photography exhibit "Polaroids" (1973). O'Hara particularly interested Best when she studied him in college a decade ago. "His poems made you feel as if you knew his friends. He caught the light on a building, the song playing on the radio. He made you feel that you were there in the moment. But, they seem more casual than they really are."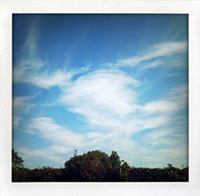 Best's own work is minimally planned ahead of time, and she allows the process of shooting and experimentation to shape the kinds of photos she takes. However, after shooting, she spends a great deal of time choosing which images to display, often grouping them together in pairs or triptychs around particular themes or subjects, in order to convey a sense of movement over time. Best explains, "Grouping photos together allows me to show images that resonate with each other, or which juxtapose with each other in an interesting way, like images in a poem. I make an intentional effort to create an experience that the viewer can 'read' in certain ways."
"Daily Photos" is on display at the Antena Gallery in Pilsen until March 20. Next, it will appear starting April 30 on the gallery wall at Paper Boy, a retail stationery store in Lakeview.
Emily Riemer, AM'09
"Pictures with bad cameras have such interesting aesthetic qualities," Best insists. At top, writer Emily Riemer uses her own low-tech camera phone to capture a self portrait of Best displayed at the exhibit.
---
RELATED READING:
"Picture perfect" (UChiBLOGo, July 10, 2009)
"Cellphone photography is SO 2010" (Gapers Block, Feb. 3, 2010)

March 5, 2010