May 2012

| Sun | Mon | Tue | Wed | Thu | Fri | Sat |
| --- | --- | --- | --- | --- | --- | --- |
| | | 1 | 2 | 3 | 4 | 5 |
| 6 | 7 | 8 | 9 | 10 | 11 | 12 |
| 13 | 14 | 15 | 16 | 17 | 18 | 19 |
| 20 | 21 | 22 | 23 | 24 | 25 | 26 |
| 27 | 28 | 29 | 30 | 31 | | |
---
CATEGORIES
---
RECENT ENTRIES
---
BLOG ROLL
Gene shorts
"You keep calling me Mr. Mozaffar in your e-mails. Not to be cliché, but that's my father's name. And his father's before him. (But interestingly, not his father's. Apparently, the name only goes back two generations. Hmmm, maybe I should look into a DNA test)."
Khurram Mozaffar, AB'95, has DNA tests on the mind. A lawyer by day and an actor by night, Mozaffar recently appeared in The DNA Trail, conceived by Jamil Khoury, AM'92, and produced by Khoury's Silk Road Theatre Project. The show consists of seven original short plays, inspired by DNA tests taken by the playwrights (the play closed April 4). Mozaffar, who is Pakistani, took on a different identity in five pieces—including a generic "Arab Man" in Khoury's WASP: White Arab Slovak Pole, a ninja in Tony Award—winner David Henry Hwang's A Very DNA Reunion, and a son who never lived up to his dead father's hopes in Phillip Kan Gotanda's Child is Father to Man.
Despite his very busy schedule, Mozaffar took some time to talk with UChiBLOGo about his heritage and about playing several different parts within the span of about two hours.
---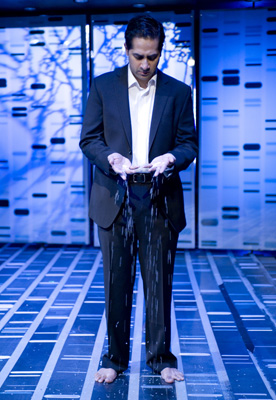 What was it like to switch between so many roles?
I can't take too much credit for that. The writing is so distinct for each of those characters that, by the time we opened the play, it was easy to slip into different skins. During rehearsal, we spent a good amount of time creating the particular nuances of each personality—everything from the way they would use their hands (Ninja Dude envisioned his arms almost like swords) to the amount of personal space they needed (Arab Man was a close talker). By the time the curtain opened, the characters were so specific that transitioning was pretty easy.
Did you relate at all to any of the characters you played?
Ninja Dude.

Ha. Actually, my role in Child is Father spoke the most to me. During the rehearsal process, it was often noted how oddly similar the lives of the character, the playwright Philip Gotanda, and myself were. Both myself and Philip made the effort at a "respectable" career in the law. The character speaks of being told by a psychic that one day, he would have three sons. I actually have three sons. But more than the coincidences, I think the anxieties the character voices rang true to me. The uphill battle in choosing a career in the arts rang true to all of us involved in the show.
Is it difficult to go from lawyer by day, to actor by night?
It has its challenges. But the acting is actually a nice reprieve from the mundane nature of my day job. For two hours a day, I just get to play.
Did acting in the show bring out any hidden questions about your own heritage?
It's interesting. I know for some of the actors, the show did bring up questions about heritage. But not for me so much. My extended family is so ginormous that keeping track of those living is difficult enough without bringing in ancestors.

I am less interested in the genetic history of my family than I am in the personal experiences my elders have had. I am utterly fascinated by tales my father tells me of his delicate relationships with his parents and siblings. Or stories of my maternal grandfather as a rabble-rousing young man. That stuff, to me, is much more rewarding to learn about.
Ruthie Kott, AM'07
Photography courtesy of the Silk Road Theatre Project
April 14, 2010