May 2012

| Sun | Mon | Tue | Wed | Thu | Fri | Sat |
| --- | --- | --- | --- | --- | --- | --- |
| | | 1 | 2 | 3 | 4 | 5 |
| 6 | 7 | 8 | 9 | 10 | 11 | 12 |
| 13 | 14 | 15 | 16 | 17 | 18 | 19 |
| 20 | 21 | 22 | 23 | 24 | 25 | 26 |
| 27 | 28 | 29 | 30 | 31 | | |
---
CATEGORIES
---
RECENT ENTRIES
---
BLOG ROLL
Obama's Chicago way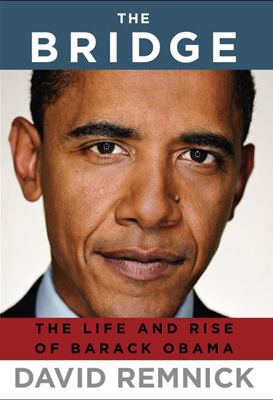 David Remnick spoke Tuesday at the Harold Washington Library, describing how Chicago shaped Barack Obama, including the influence of his future wife Michelle Robinson's tight-knit, striving family. With the caveat that he wanted to avoid psychoanalyzing his subject, Remnick waded into Obama's head. The Robinson family represented everything his childhood lacked. With his father absent and his mother often abroad, Obama found in the Robinsons an example of what he might be able to achieve.
Obama followed a help-wanted ad to Chicago, lured by fate and newsprint to the city that would propel his political life. "Chicago is, if not everything to Barack Obama, the key arrival spot for him," said Remnick, the New Yorker editor and the author of a new biography that traces the unlikely route from Honolulu to the White House.
In The Bridge: The Life and Rise of Barack Obama (Knopf, 2010), Remnick details how a rootless, searching "man without a country"—just a figure of speech—developed an identity in Chicago. "Almost everything that he could find in life, he had to find here," Remnick said, "especially on the South Side." As a community organizer, a Law School lecturer, and an office-seeker, Obama established a stability he never had in his youth while retraining his ability to inhabit diverse worlds. It would become a potent political cocktail.
His own ambition emerged at Harvard Law School, Remnick said; in fact, Obama might have been too anxious to advance in Chicago. Already a state senator, in 2000 he challenged incumbent congressional Representative Bobby Rush—"an act of enormous impiety," Remnick said. "Everybody around him, including his wife, says don't do it. And he lost. He lost beyond his wildest dreams."
After that loss, Obama discovered talents that translated beyond the district, revealed in campaign-style visits to farm towns and VFW halls throughout Illinois. "His uncanny ability to inhabit certain worlds and move one to another and translate them to each other" awakened bigger aspirations, Remnick said. "Connecting with people around Illinois suggested a political career beyond big-city mayor or majority African American congressional district."
Political savvy and demographic appeal took him a long way, but Illinois Republicans inadvertently boosted his career too. Obama benefited from good fortune that even his closest advisers could not believe, particularly the revelation of 2004 Senate candidate Jack Ryan's salacious divorce papers. Ryan dropped out of the race, leaving Obama with the equivalent of a winning electoral lottery ticket. When they learned Alan Keyes would be Ryan's replacement, campaign manager Jim Cauley told Obama, "You are the luckiest bastard on earth."
Jason Kelly
April 16, 2010